Ukraine war: Kyiv locals queue for water after Russian strikes
People in the Ukrainian capital Kyiv had to queue for water after Russian missiles struck key facilities across the country on Monday.
An evening update from the city's mayor, Vitaliy Klitschko, said 40% of consumers in Kyiv remained without water, and 270,000 homes had no power.
Thirteen people were injured in the attacks nationwide, Ukraine said.
Russia said the strikes were aimed at Ukraine's military control and energy systems, and that all targets were hit.
But the Ukrainian military said it had shot down 45 out of 55 missiles that were launched.
For security reasons, the outside world is rarely shown the destruction of Ukraine's critical infrastructure by Russian airstrikes.
Ukrainian officials say this is to avoid sharing information that could be used in future attacks, including locations hit – or potentially missed.
But the consequences of Monday's strikes were everywhere to be seen. Rolling power cuts have been introduced in several regions.
Ukrainians in general have been urged to reduce what is already an "extremely frugal" electricity consumption, in the words of President Volodymyr Zelensky.
In Kyiv, streetlights were turned off and trolleybuses replaced with conventional buses.
Long queues were seen across the city, as residents lined up to collect water from pumps after their own supplies were cut.
Mr Klitschko earlier said as many as 80% of Kyiv's consumers had been left without water in their homes, and urged fellow residents of the capital to head out and stock up.
In a later update, he said many households had been reconnected.
In addition to the capital, other areas affected by the strikes included Lviv, Dnipropetrovsk, Kharkiv and Zaporizhzia.
Overall, 18 facilities – most of them energy-generating – were hit by missiles and drones in 10 regions, Ukrainian officials said.
One of the missiles intercepted by Ukraine's air defences landed in a border town in Moldova, causing damage to houses but no casualties, according to authorities in the neighbouring country.
Moldova later said a Russian embassy employee in Chisinau had been told to leave its territory – without specifying who the individual was.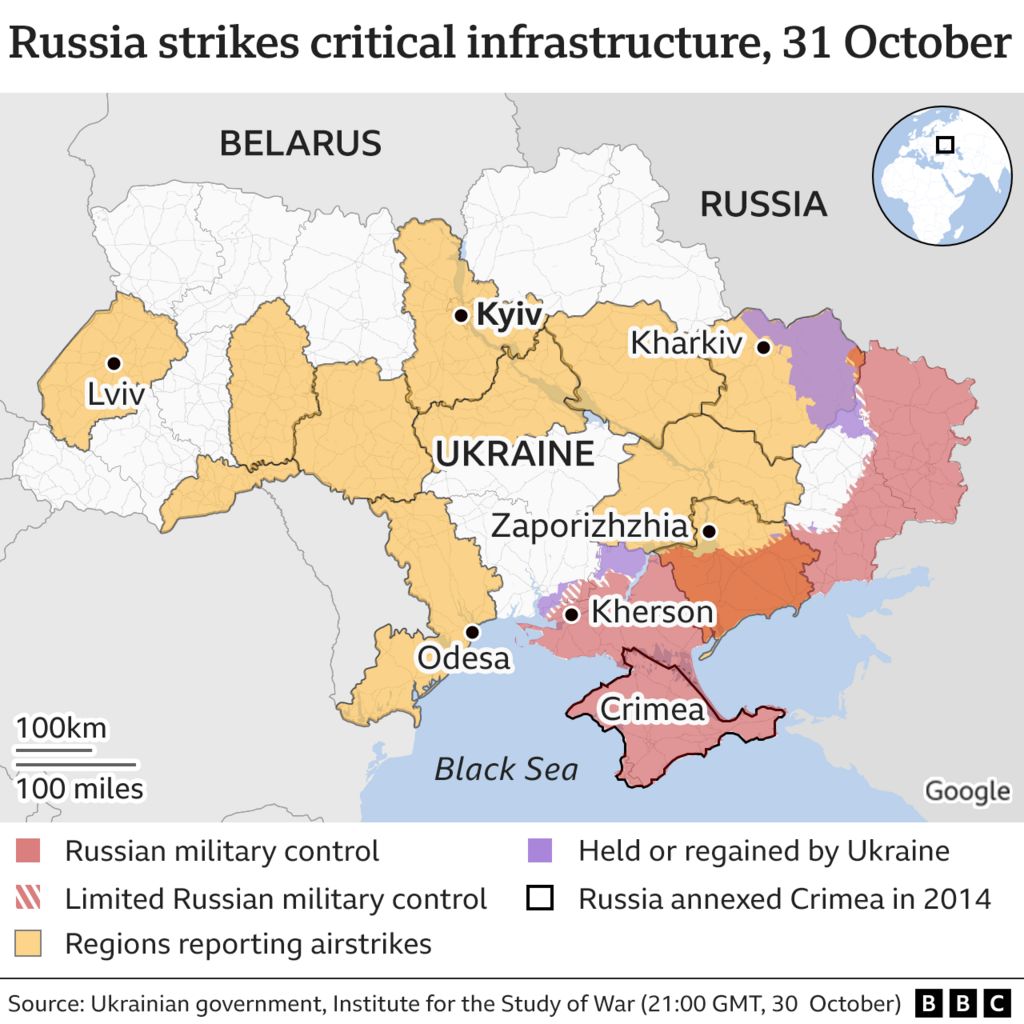 Monday's strikes came after Russia blamed Ukraine for a drone strike on its Black Sea Fleet in the annexed Crimean peninsula over the weekend.
Kyiv is yet to comment on that incident, during which a Russian warship was damaged in the port city of Sevastopol.
After the attack, Russia pulled out of a UN-brokered deal which allows safe passage to ships carrying grain from Ukrainian ports – though Ukraine said on Monday that ships were continuing to depart.
The fresh wave of attacks was the latest example of what has become Russia's strategy in Ukraine: the targeting of the important infrastructure before winter, when temperatures can drop to -20C.
Ukraine says this is Russia's response to its military defeats, as the Ukrainian army takes back territory in a successful counter-offensive.
The Ukrainian defence minister Oleksii Reznikov has linked the Russian campaign to General Sergei Surovikin – who was appointed by President Vladimir Putin as his new commander in Ukraine earlier this month.
In a rare news conference last week, the minister said Russian forces had "changed their tactics" after the arrival of Gen Surovikin – whose nickname is Gen Armageddon – and "started openly fighting with the civilian population, not with the armed forces of Ukraine".
The goal, he said, was to inflict "chaos and panic" in the population, "when it's very cold and dark".
President Zelensky has described this tactic as "terrorism". Many Ukrainians say they are not afraid – though many are angry that civilians have, again, become the target.
"Instead of fighting on the battlefield, Russia fights civilians," Dmytro Kuleba, the Ukrainian foreign minister, said on Monday morning – echoing a view shared by many of his compatriots.
Ukraine says it needs more air defence capabilities to defend its cities. Germany has already sent equipment, and the UK and the US have announced they will do so.