PMQs: Liz Truss and Keir Starmer clash over energy bills – as new PM confirms announcement tomorrow
Liz Truss confirmed she will outline her plan to help households and businesses deal with the cost of living crisis tomorrow – but the Labour leader said she was making "working people pay" by ruling out a windfall tax.
Prime Minister Liz Truss says she will take "immediate action" to deal with soaring energy bills – and will make an announcement tomorrow.
However she has been accused of "protecting profits and forcing working people to pay the bill" after ruling out extending the windfall tax to fund her energy plans.
Ms Truss is widely expected to announce a freeze on the energy price cap, with reports suggesting the policy could cost up to £150 billion and that this will be funded largely through borrowing.
'Clear dividing line' emerges on energy bills help – live updates
Asked during Prime Minister's Questions whether she will introduce a windfall tax on energy giants to fund her plans, Ms Truss said "we cannot tax our way to growth".
It lead to a fiery clash with Labour leader Sir Keir Starmer, who said the Treasury estimates that energy producers will make £170bn in excess profits over the next two years.
"You have no choice but to back an energy price freeze, the political choice is who is going to pay," he said.
"Is she really telling us that she's going to leave these vast excess profits on the table and make working people foot the bill for decades to come?"
In a sign of the political battles that lie ahead, Sir Keir also attacked her plan to halt the rise in corporation tax. This had been due to increase from 19% to 25% in 2023, but Ms Truss said that would deter investors.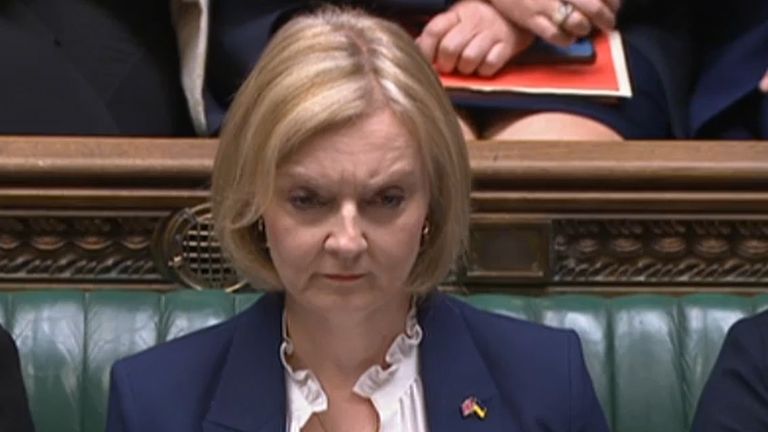 Sir Keir said: "There's nothing new about the Tory fantasy of trickle-down economics, nothing new about this Tory prime minister who nodded through every decision that got us into this mess and now says how terrible it is, and can't she see there's nothing new about a Tory prime minister who when asked who pays says 'it's you, the working people of Britain'?"
But Ms Truss hit back saying there is "nothing new about a Labour leader who is calling for more tax rises", and accused Sir Keir of failing to "understand aspiration".
She insisted she was taking "immediate action to make sure we have lower taxes and we grow the economy".
And she said her energy plan would help both households and businesses while securing long-term supply.