Billions of our Muslim brothers and sisters around the world have been undertaking Hajj each year since 629 CE following the migration of Prophet Muhammad (peace be upon him) from Medina to Makkah. For anyone preparing to go, it's an incredibly exciting time but of course a deeply spiritual, serious and important period of our lives. This handy Hajj guide will help you understand the different aspects of the holy pilgrimage.
Step-by-step Hajj Guide
SubhanAllah, each and every year around 25,000 Muslims from the UK travel to the holy cities of Makkah and Medina to perform Hajj, in unity with Muslims from all over the globe. So if you're one of these next pilgrims heading off to Saudi Arabia to fulfil this sacred pillar, read on! We've put together this handy Hajj guide to help you through this blessed journey!
What are the steps of Hajj?
Preparation and Intention
Enter state of Ihram
Tawaf x7
Safa and Marwa
Clip/Shave Hair (Umrah ends)
Resting and Praying
Enter state of Ihram
Arrive at Mina
Day of Arafah
Muzdalifah (under the night sky)
Rami (stoning of the devil)
Qurbani
Shave Head
Tawaf al-Ifadha
Rami (stoning of the devil)
Spend night at Mina
Rami (stoning of the devil)
Spend a night in Mina
Farewell Tawaf al-Wida
We are only a few weeks away from Hajj 2022/1443 — that special period in the Islamic calendar when Muslims from around the world travel to observe one of the sacred pillars of Islam.
Subject to the sighting of the moon, Dhul Qadah is expected to end on June 29 with Dhul Hijjah starting on June 30.
Hajj is performed between the 8th to 12th of Dhul Hijjah. That means hajj rituals will likely begin on the evening of July 7th and end on the evening of July 12th.
Eid is expected to fall on Saturday, July 9.
Those key dates for Hajj 2022/1443 again:
Friday 8 July – Day of Arafat 2022/1443*
Saturday 9 July – Eid al-Adha 2022/1443*
10, 11, 12 July – The days of tashreeq *
*The dates are subject to the sighting of the moon.
What is the Hajj pilgrimage?
Hajj is the annual pilgrimage made by Muslims to the holy city of Mecca in Saudi Arabia, in the Middle East.
It takes place during Dhu'al-Hijjah, which is the final month of the Islamic calendar. In 2021 Hajj started from the evening of 17 July and will continue until 22 July.
Every year, millions of Muslims from across the world make the journey to Mecca from wherever they live.
However, this year there are special rules as part of Saudi Arabia's attempts to control the spread of the coronavirus.
Why do Muslims go on this pilgrimage?
Hajj is one of the five pillars of Islam. These are the five key acts which every Muslim is expected to do in their lifetime.
Muslims are required to make the journey to Mecca for Hajj at least once in their life if they are physically able and can afford to do so.
In addition to Hajj, the other important acts are:
Shahadah – A declaration of faith that every Muslim has to make
Salat – Muslims pray at specific times five times a day
Zakat – Those within the faith give away a portion of their income to help those in need
Sawm – Muslims fast for a month during Ramadan
Why is Mecca so important?
Mecca is the place where the Islamic religion started. It is where the Prophet Muhammad was born and received the first revelations from Allah (Allah is the Arabic word for God) that went on to become the Koran – the holy book read by Muslims.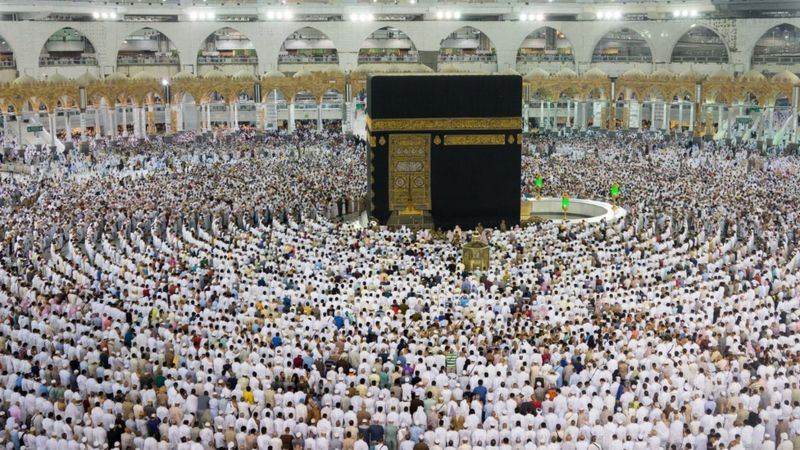 The city is home to the Ka'bah, built by prophet Abraham and his son prophet Ishmael. Muslims pray in the direction of this sacred building, which is found within the Great Mosque of Mecca.
The Ka'bah is the holiest site in Islam and symbolises the oneness of God.What happens during Hajj?
Muslims carry out a number of important rituals while they are on the pilgrimage.
Men are required to wear two sheets of white cloth, which are worn in a specific way. Women wear traditional clothing and must cover their head, but not their face. These clothes symbolise the equality of all Muslims before Allah.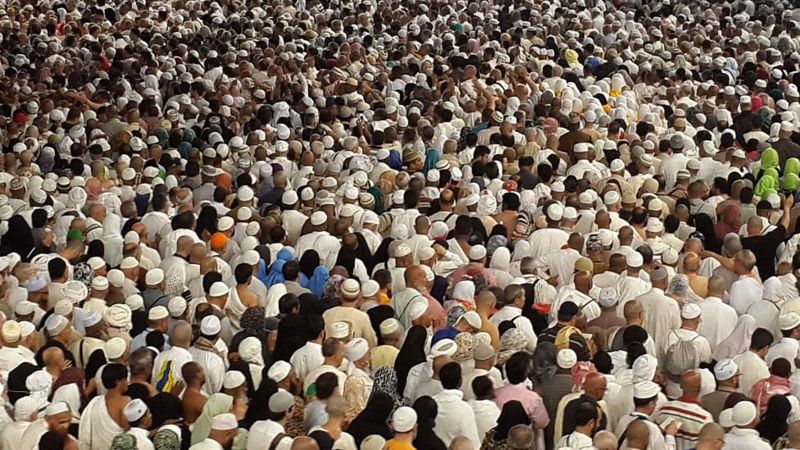 Millions of Muslims travel to Mecca every year
During the first stage of Hajj, Muslims walk around the Ka'bah in an anti-clockwise direction seven times. This is known as Tawaf and is done to show that all Muslims are equal.
The next ritual requires Muslims to run between two hills, Safa and Marwah, seven times. Muslims believe that the prophet Abraham's wife Hagar did this when she was in search of water for her infant son Ishmael. Ishmael is believed to have struck his foot on the ground and this produced a spring of water known as Zamzam. It is common for those on the pilgrimage to take water from Zamzam with them when they go back home.
Pilgrims travel to the plain of Arafat. This is where the Prophet Muhammad gave his final sermon and Muslims pray to God here for forgiveness and guidance.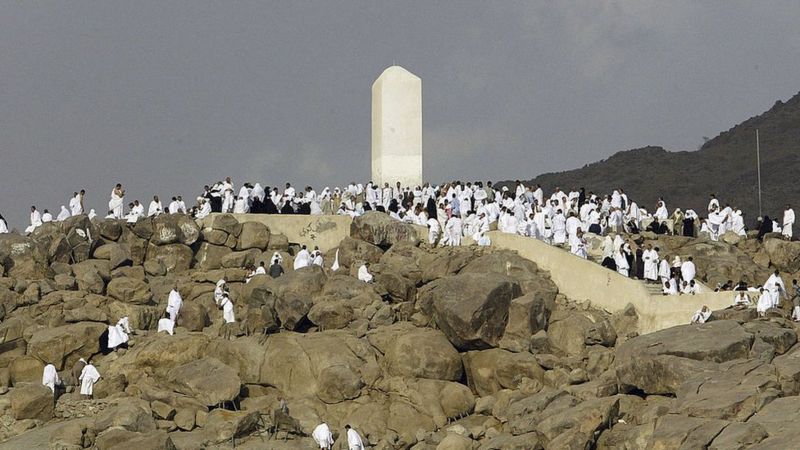 Muslims spend time praying to Allah at the plain of Arafat
Muslims also stop at three pillars called Jamarat in the city of Mina. This is where pilgrims throw stones at pillars which stand at the place where Satan is believed to have tempted the prophet Abraham.
Muslims celebrate the festival Eid ul-Adha during Hajj. This is the second holy festival in the year.
Eid ul-Adha marks Allah asking the prophet Abraham, in a dream, to sacrifice his son Ishmael as an act of obedience to Allah. Ishmael agreed to it but as Abraham was about to kill his son, Allah stopped him and gave him a lamb to sacrifice instead, rewarding them for their faith and willingness to follow the request.