Eid: Belfast event 'amazing' for Muslim community
Thousands of Muslims in Northern Ireland have celebrated the festival of Eid al-Fitr, which marks the end of the holy month of Ramadan.
One of the largest gatherings was at Colin Glen Leisure Park in west Belfast, where over 1,000 people met.
The event was organised by the Belfast Multi-Cultural Association (BMCA).
Ramadan, considered one of the holiest months in the Islamic calendar, began on 22 March and during it Muslims practice fasting during daylight hours.
Eid brings that to an end and is therefore a feast day, as well as a religious holiday, and is often marked by family celebrations, gifts and gatherings.
The date of both Ramadan and Eid depend on the cycles of the moon, so in 2023 Eid falls on 21 April.
The name Eid al-Fitr translates as "the festival of the breaking of the fast".
'It's like Easter'
Thirteen-year-old Hamza, who was at the Belfast event, told BBC News NI that for Muslims Eid was as important as Easter is to Christians.
"It's a bit like Easter and Lent," he said.
"Ramadan, you fast, and then Eid is a day you eat and celebrate, and it's kind of like Easter and like Easter Sunday when you eat."
The event in Colin Glen was packed, filling a large dome housing two football pitches.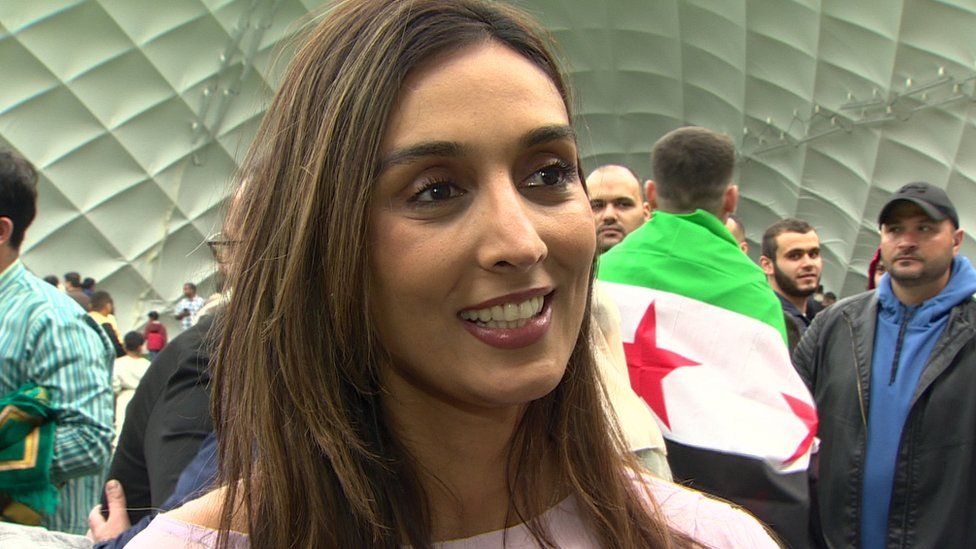 Pharmacist Madeeha Malik said that was because gathering for prayer was a key part of the day.
"You'll probably see by the traffic on the road," she said.
"This is a must for everybody to make sure you do your Eid prayers, that's the first thing that people tend to do.
"They maybe have a small breakfast in the morning, but then they make sure they go to the Eid prayers, that's the main significance of the day.
"Then later on you'll feast with your family so all Muslims primarily will come to the Eid prayer."
The community has grown in Northern Ireland in recent years, with the 2021 census recording almost 11,000 Muslims.
Ms Malik has noticed that growth and said gathering together at Eid was a way to catch up with people.
"It's great to see everybody, even childhood friends that I went to the mosque with," she said.
"It's been quite a number of years so it's been really good just to kind of link in.
"You see these children that have just grown up and they're massive now as well so it's really nice to kind of socialise and things like that."
'It's nice to be here together'
One of the trustees of the Belfast Multi-Cultural Association, Asim Sattar, was one of the organisers of Eid in Belfast.
He said that he was very thankful to the management of the Colin Glen centre.
"It looks so nice to be here together after 29 days of fasting," he told BBC News NI.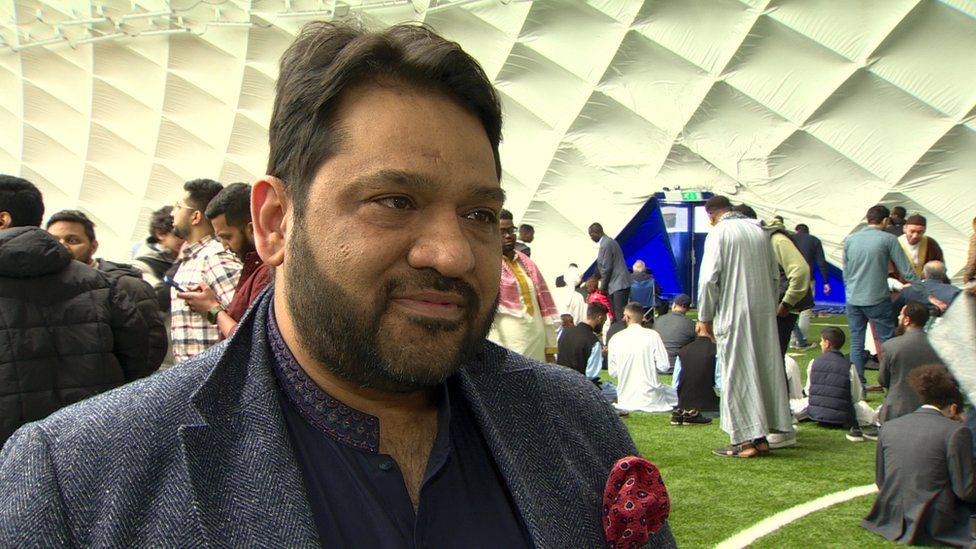 "We all gather here and we are celebrating together – different nationalities, different cultures, but in one place.
"We get together and celebrate, to hug each other, to show that we are all together.
"And in this country to show other religions as well that we are peaceful, that we are together and not something different from you guys."
Imran Shazad Cheema also told BBC News NI he wanted to thank both the UK and Northern Ireland governments.
"They are very helpful to us and we're all together here and we really like that," he said.