New Zealand declares national emergency as Cyclone Gabrielle wreaks havoc
Cyclone Gabrielle: New Zealand declares national state of emergency
Measure invoked for only the third time in country's history as cyclone wreaks havoc across North Island
New Zealand's government has declared a national state of emergency, as Cyclone Gabrielle continues to batter the country, with floods trapping people on roofs and landslides destroying homes in what officials have described as an "unprecedented" natural disaster.
The country announced a national state of emergency on Tuesday as the scale of damage inflicted by the storm emerged.
Emergency management minister Kieran McAnulty said Gabrielle was an "an unprecedented weather event" and was "having major impacts across much of the North Island".Cyclone Gabrielle: communities cut off in New Zealand's North Island as national emergency declared – live updatesRead more
It is only the third time in New Zealand's history that a national state of emergency has been declared. The designation means that the national government can send resources across the country to bolster civil defence efforts.
The worst-affected areas appear to be around the east coast and far north of the North Island. Some communities, such as the coastal region of Gisborne/Tairāwhiti, have been cut off entirely, lacking power, mobile networks or road access. Fire and Emergency New Zealand said it had lost all communication with crews on the ground in the early hours of Tuesday morning, while Civil Defence workers are communicating by satellite phone.https://interactive.guim.co.uk/uploader/embed/2023/02/embed-38-zip/giv-13425iQkDB7AUwu5w
Flood waters rose to envelop homes and buildings in some areas: in Hastings, some people sheltered on the roofs of their buildings. Landslides around Auckland's west coast have swept away homes and cut off roads.https://7c182c63a69cea2be41bd6a7b9ff84dd.safeframe.googlesyndication.com/safeframe/1-0-40/html/container.html
McAnulty said that while "we are through the worst of the storm itself, we are all facing extensive flooding slips, damaged roads and infrastructure".
"Our message to everyone affected is safety first: look after each other, your family and your neighbours," he said. If people were facing dangerous conditions, he urged them to proactively evacuate: "If you are worried about your safety, particularly because of the threat of flooding or slips, then don't wait for emergency services to contact you: leave and seek safety."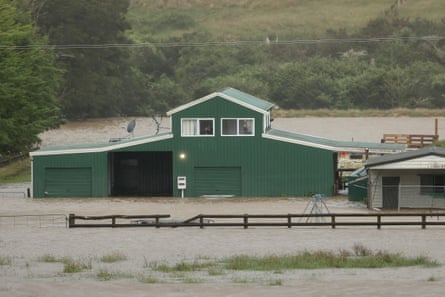 National Emergency Management Agency's national manager of operations, Roger Ball, said: "The situation is really evolving minute by minute. We've got self-evacuations at the moment and formal evacuations under way."
He said some evacuations were now being conducted by the New Zealand defence force.
The conditions are making evacuations and rescues difficult. One firefighter is in a critical condition, and another still missing after a landslide destroyed the house that they were inspecting in Muriwai.
McAnulty said that emergency workers were struggling with access in a number of regions across the North Island. "The unstable ground, the flood waters, closed roads [are] making their job incredibly difficult. The options that would be available to them normally, such as helicopters, may not be possible with the extent of the weather," he said.