King Charles III's coronation: The surprising power of pomp and ceremony
The lavish spectacle of a state ritual is far more than gilded carriages and foreign dignitaries. It brings broader benefits to society that shouldn't be overlooked.
n 6 May, 2023, one of the most spectacular rituals in the world will take place: the coronation of King Charles III and his wife, Queen Camilla.
Shrouded in spectacle and adorned with priceless regalia, the ceremony will be officiated by the Archbishop of Canterbury at Westminster Abbey and attended by a host of foreign royals and heads of state. The whole event will be broadcast around the world, with hundreds of millions of people expected to tune in. Once crowned, the royal couple will return to Buckingham in the Gold State Coach, a carriage so loaded with gold that it needs eight horses to pull it. They will be escorted by thousands of troops from all branches of the armed forces, making up the largest military display in three generations.
The festivities will last all weekend – and a long weekend at that, as Monday has been proclaimed a public holiday nationwide. Events include colourful parades, public concerts, spectacular light shows, and thousands of street parties across the UK and the Commonwealth.
The scale of this undertaking might seem exuberant. After all, King Charles may have dominion over all swans, dolphins, whales and sturgeons in the UK's waters but he will wield little political power beyond a largely ceremonial role. What is more, a coronation is not even necessary to become king. In fact, Edward VIII reigned as sovereign without ever being crowned. As heir apparent, King Charles III's accession to the throne occurred automatically the moment Queen Elizabeth II died, on 8 September 2022.
Yet, the pomp and pageantry of the coronation has another important role to play. Across all cultures, ceremonies matter. Studies show that ritual actions can activate deep-seated intuitions about causality in people's minds. For instance, small children seem to think that birthday parties may be the cause of growing older. And even if they don't realise it, adults have similar inklings. In an experiment conducted in the US, my colleagues and I showed people videos of basketball players shooting free throws, freezing each frame and asking them to predict which shots would hit their target. Participants were more likely to expect a successful outcome when they saw the player perform a pre-shot ritual such as spinning or rubbing the ball.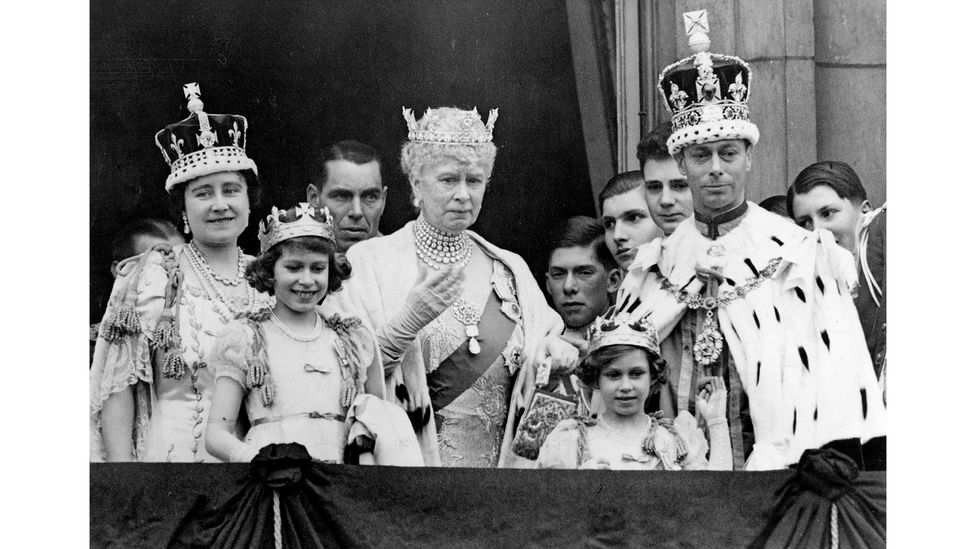 Many of the rituals in King Charles III's coronation will be the same as those that were in the coronation of his grandfather King George VI (Credit: Getty Images)
The inverse can also be true: when it comes to milestones that are typically marked by ritual, the absence of ceremony may diminish the sense that the outcome has been achieved. Surveys suggest that students around the world felt this sense of loss during the Covid-19 pandemic, when they were not able to have a graduation ceremony.
As an anthropologist, I have come across many people in Greece who believe that one could not obtain a birth certificate if they were not baptised as children, or that a wedding would not be legally valid unless performed in church. In reality, all that is needed in each case is the signing of a legal document. But the symbolism and pageantry of the ceremony is what makes the act seem official – so much so that it can create the impression that it is the ritual rather than the paperwork that matters.
Similar intuitions may be activated by failure to follow ritual protocol. Consider the case of Barack Obama's first inauguration. In 2009, he was sworn in as the 44th US president. According to the US Constitution, the oath should read: "I will faithfully execute the office of President of the United States." Instead, Obama proclaimed: "I will execute the office of President of the United States faithfully." Same words, identical meaning, different order. This slightest of errors led many to question the legitimacy of the presidency. As a result, Obama retook the oath the next day out of "an abundance of caution".
At first glance, our obsession with ritual may seem misplaced. After all, to say that an event is purely "ceremonial" is to say that it has no practical utility. But even as they have no direct influence on the external world, ceremonies still fulfil important functions. They can provide comfort, create meaning, and forge a sense of belonging. It is for this reason that they permeate all of our social institutions.
When a ritual is loaded with magnificence, our brain tells us that something momentous is happening
Collective ceremonies act as social glue. They brandish symbolic markers of group membership and coordinate people's appearances, actions, and emotions. By doing so, they create feelings of unity that can transform individuals into communities. Research shows that when people participate in group rituals, their heart rates synchronise, and this helps them feel more bonded. This effect extends not only to the people performing the ritual action, but to the entire community watching it.
State rituals in particular serve to extend this sense of unity to entire nations. This is necessary, because nations are not real: their members are not bound by any inherent similarities – only by their collective imagination. To survive, they must constantly renew their figurative existence through myths, symbols, and rituals.
A key aspect of state rituals is continuity. Traditions are like fine wine: their value only grows with age. Ancient customs that have persisted through the ages have been performed by countless generations and have served them well. This is why people often insist that their rituals are unchanged and unchangeable – even as they do undergo revisions. This is not lost on officials at Buckingham Palace. The Royal Family's website notes that the coronation "has remained essentially the same over a thousand years".
In reality, changes have gradually occurred to all stages of the coronation ceremony, each time according to royal preferences and the spirit of the times. Besides, King Charles himself is planning to make several amendments to his own enthronement. But the idea of continuity is still paramount. To uphold an unbroken tradition is to become a member of a community that transcends one's own time and place, along with countess others who have done so before and will do so in the future.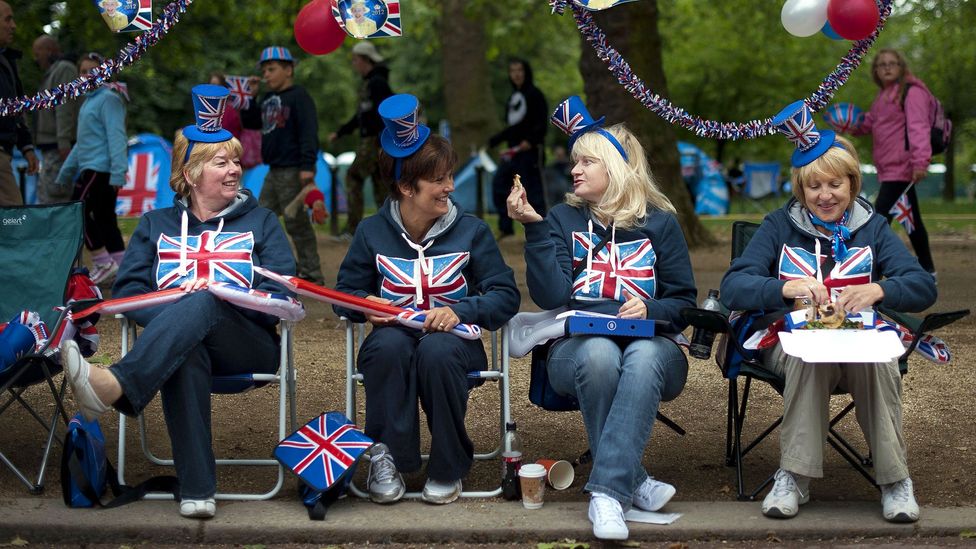 State rituals can help to create a sense of unity by bringing people together into a community (Credit: Getty Images)
Traditions such as raising and displaying the flag, watching the changing of the guard, or listening to the sovereign's Christmas speech can all contribute to that feeling. Repetition brings conviction, and etiquette adds a sense of importance. Indeed, studies show that ritualised actions are perceived to be more special than ordinary ones. Most state rituals, however, can be rather humdrum, and so their effects are fleeting. On occasion, the social glue needs to be reinforced through the use of additional ingredients. Enter regal splendour.
The glamour and theatricality of royal ceremonies gives them an aura of epochal significance. They involve explosions of light, colour, music, and pageantry. All this fanfare activates psychological processes related to how we appraise our world. When we attend a ritual loaded with magnificence, our brain is telling us that something momentous is happening. This is why, across the globe, ceremonies honouring monarchs are far more flamboyant than those addressing their democratically elected counterparts.
In 1981, Prince Charles and Lady Diana Spencer's union became the most expensive wedding of all time, at a cost that exceeded the annual GDP of some of the world's smallest countries. And in 2022, the UK government organised a four-day celebration described as a "once-in-a-generation show" to mark Queen Elizabeth's Platinum Jubilee. Ritual helps legitimise what may otherwise be a rather fragile institution.
The effects of ceremonial opulence may extend well beyond the Kings' subjects. To the world at large, they act as status symbols – what anthropologists call "credibility-enhancing displays". Our minds intuitively link effort with value. A ceremony that requires such enormous cost and effort to organise provides tangible evidence of the importance of the institution it celebrates and people's commitment to that institution. 
At a time of political instability, with an increase in Russian aggression, the UK emerging from Brexit and a global pandemic, the British state could use some of that social glue. And above all, so could the royal family.
The last few years have been rough on the royals, to say the least. Prince Andrew lost his military titles and royal patronages as he faced allegations of sexual assault that he has consistently denied. Internationally, as the world grapples with the legacy of colonialism, more and more countries seem inclined to cut their ties to the Crown. All the while, Prince Harry and his wife Meghan, the Duchess of Sussex, have had a very public exit from the centre of royal life and their media presence has been rubbing salt to these wounds.
In light of these developments, the coronation may play a crucial role in the Royal Family's struggle to stay relevant. Indeed, as public support for the monarchy has been steadily declining, two recent grand ceremonies, the Queen's Platinum Jubilee and funeral, have been accompanied by boosts to British attitudes towards the institution.  
King Charles III's coronation will be one of the most grandiose royal celebrations of this century. It remains to be seen whether it can help convince his subjects that he still has a role to play in British society.