Ukraine war latest: Putin trying to 'deflect' blame with public appearance amid growing pressure; Russian oligarch who criticised invasion has hotel seized
Latest updates as a public appearance by Vladimir Putin is interpreted as an effort to deflect pressure and ease rumours; an oligarch who criticised the war as "madness" has a luxury hotel complex seized in Russia; listen to the latest episode of Ukraine War Diaries as you scroll.
Evidence of unrecorded mass graves in Ukraine – as Russia has lost 'significant number' of military leaders
More on British Defence Secretary Ben Wallace's statement in the Commons on Ukraine.
According to the UK's assessment, he said Russia has "failed to achieve its strategic objectives" in Ukraine and is rapidly losing troops and military commanders.
"Not one single operational commander then in place on February 24 is in charge now. Russia has lost significant numbers of generals and commanding officers," he said.
"Rumours of General Gerasimov's dismissal persist as Putin deflects responsibility for continued military failure in Ukraine. High fatality rates and increasing public dissatisfaction is growing."
Using a figure that has been quoted for some weeks now, he said more than 100,000 Russians are dead, injured or have deserted.
Meanwhile, more than 4,500 armoured and protected vehicles have been destroyed along with more than 140 helicopters and fixed-wing aircraft.
Mr Wallace also spoke about the toll on Ukrainian citizens, saying that "every day more allegations emerge of rape, arbitrary detention, torture, ill treatment, deaths in custody and summary executions".
He also said there was evidence of unrecorded mass burial sites, and claimed Russia had destroyed 200 Ukrainian cultural sites.
Putin spokesman pictured 'wearing $6m watch'
Regular readers of our live coverage of the war in Ukraine will be more than familiar with the Kremlin's spokesman, Dimitry Peskov.
The official's routine briefings are a daily fixture in our reporting, with his array of claims and denials invariably attracting widespread scepticism that often veers into outright ridicule.
Nevertheless, he remains a seemingly hugely trusted ally of Vladimir Putin – and if reports around the price of his watch are to be believed, a very well remunerated one too.
Russia planning to provide Iran with military components, UK says
The British defence secretary has warned Russia is planning to "provide Iran with advanced military components" in exchange for "kamikaze drones".
In a statement in the Commons, Ben Wallace said Iran was one of Russia's "top military backers".
He said Russia's intention to provide the components would undermine "both Middle East and international security".
"We must expose that deal. In fact I have just now."
Iran has supplied more than 300 drones to Russia for use in Moscow's invasion of Ukraine.
Although Iran has acknowledged supplying the weapons, it said they were sent before the war.
The UK, US and EU have sanctioned Iranian military figures and defence manufacturers over their alleged involvement in the supply of drones.
Mr Wallace also said in his statement that the UK will donate thousands of cold weather kits to Ukrainian soldiers, and has already sent 900 generators to help the country prepare for winter.
"The UK has so far donated 900 generators to Ukraine and sent approximately 15,000 sets of extreme cold weather kit to the Ukrainian armed forces including cold weather clothing, heavy duty sleeping bags, and insulated tents," he said.
"We anticipate 10,000 further cold weather kits will be delivered by Christmas. Across the international community about 1.23 million winter kit items have been deployed to Ukraine."
In pictures: Zelenskyy visits troops in Bakhmut
As we mentioned earlier, the Ukrainian president has travelled to the frontline city of Bakhmut to meet troops there.
Russia has put a large amount of resources into capturing the eastern city, but has been unsuccessful so far – and Volodymyr Zelenskyy's visit will likely be seen as a message to Moscow that its plan is failing.
These pictures have now been released by the president's press office.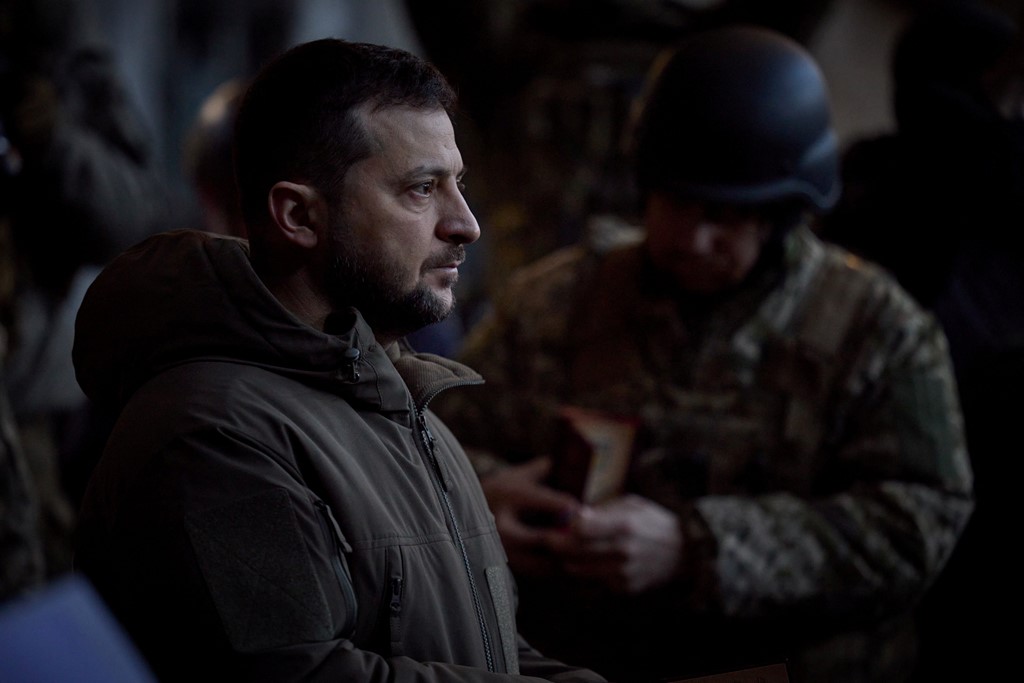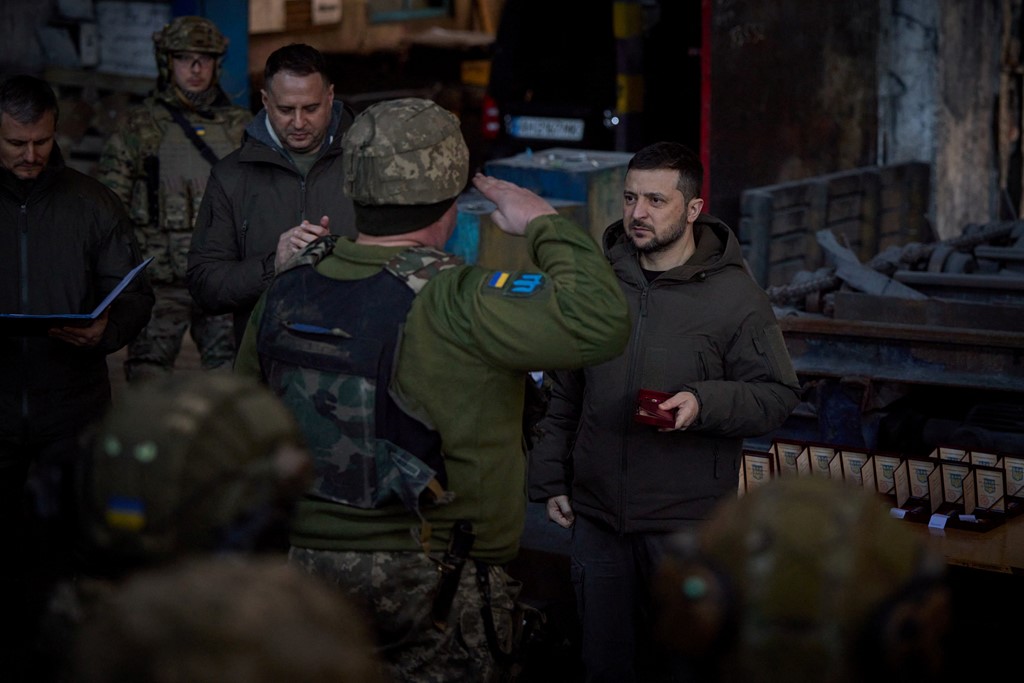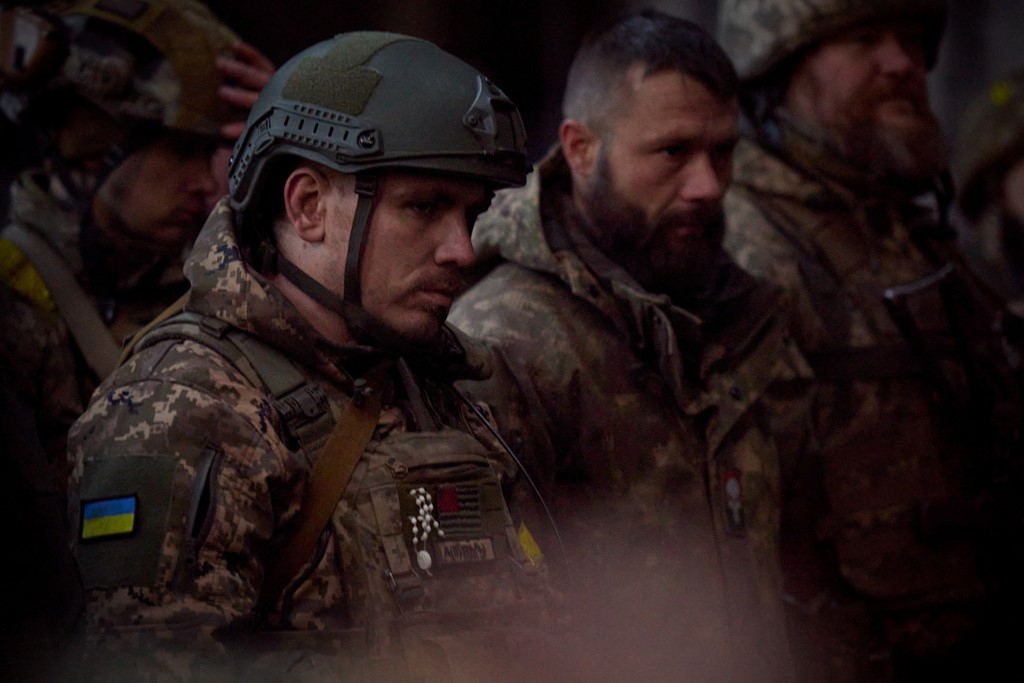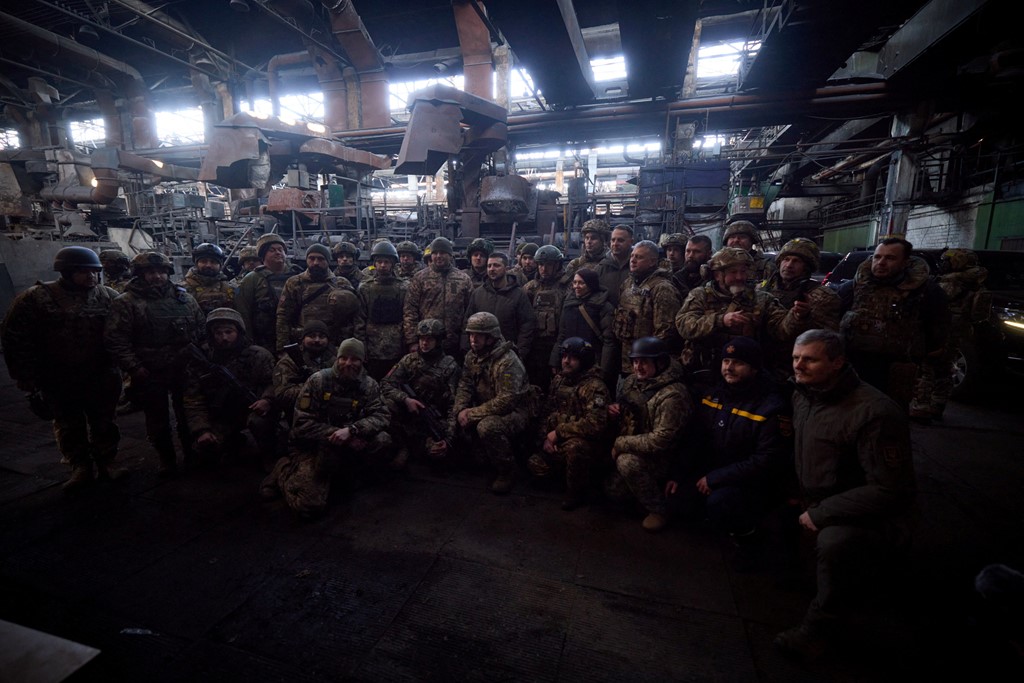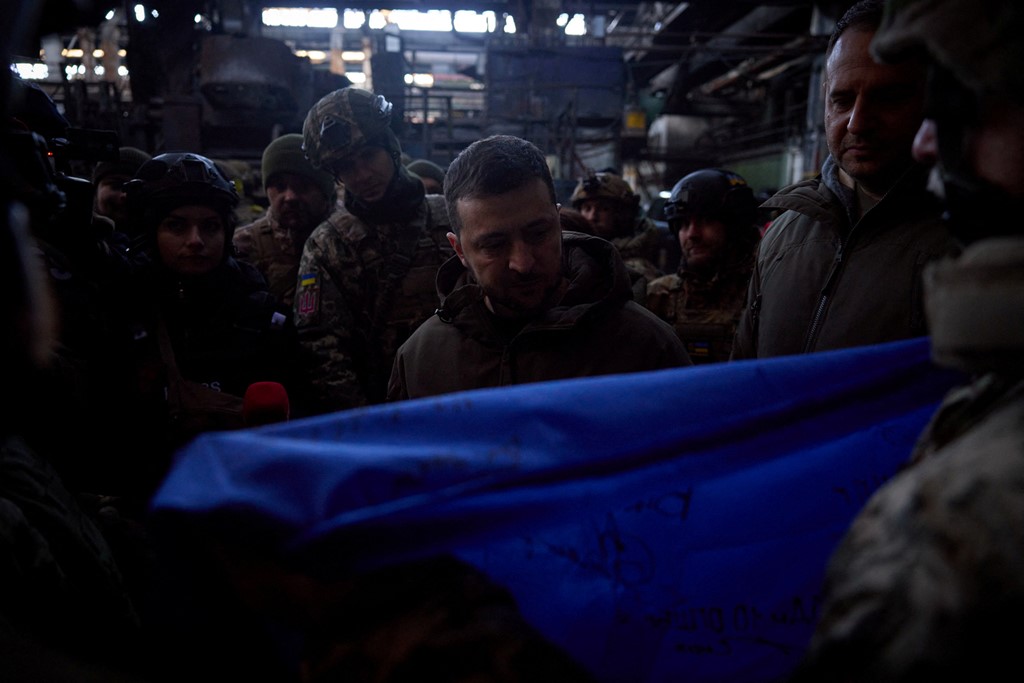 Russia reports shelling in Belgorod region
One man has been injured in shelling on the district of Shebekinsky in Russia's Belgorod region, according to a local official.
Belgorod governor Vyacheslav Gladkov said the man suffered a broken arm and was taken to hospital.
The nearby power supply was disrupted and one-third of Shebekinsky's residents were left without power for some time, although this has now been restored, he said.
Mr Gladkov also reported shelling on warehouses in an industrial zone.
Shebekino is near the border with Ukraine, although Ukrainian officials have not commented on the incident.
Three killed in Russia gas pipeline explosion
A short while ago, we brought you reports that a blast has ripped through a gas pipeline in central Russia.
Local officials have now said three people were killed in the explosion at a section of the Urengoi-Pomary-Uzhhorod pipeline.
The key pipeline brings gas from Russia's Arctic through Ukraine to Europe, although the gas flow has been cut through the affected section this afternoon.
The Chuvashia regional Emergencies Ministry said the pipeline had blown up during planned maintenance work near the village of Kalinino, about 400 miles east of Moscow. 
How could winter affect the war in Ukraine?
As Ukrainian and Russian forces continue fighting in sub-zero temperatures, there are a new set of challenges they face.
Here, we take a look at what experts have said about the gruelling weather both sides must now fight in…
This month, US director of intelligence Avril Haines, said fighting in the country would continue to slow down in the winter months.
She told NBC News: "We're seeing a kind of a reduced tempo already of the conflict… and we expect that's likely to be what we see in the coming months."
Meanwhile Jack Watling, senior research fellow for land warfare at the Royal United Services Institute, said newly mobilised Russian troops would not be as prepared for the climate as Ukrainian soldiers.
In a piece for the Telegraph this month, Mr Watling wrote: "For the Russian military, the large number of personnel who have been brought into service have received two or three weeks' training and been issued with the minimum of combat equipment.
"The personal discipline of keeping dry has not been effectively instilled in the force.
"Heavy casualties among junior leaders during the earlier phases of the invasion, combined with a lack of time to build esprit des corps within units, means that cohesion in Russian units is lacking.
"In these circumstances, soldiers are liable to favour congregating in warm locations such as buildings where they can light fires. This concentration creates targets for artillery."
And last month, the UK's Ministry of Defence also noted the plummeting temperatures were likely to impact decisions on the battlefield.
In its military report it said: "Winter will bring a change in conflict conditions for both Russian and Ukrainian forces. Changes to daylight hours, temperature and weather will present unique challenges for fighting soldiers."