Ukraine latest news: Putin ally calls for 'nuclear' response
Russian troops leave Lyman under threat of Ukrainian encirclement; the director of Europe's largest nuclear plant is detained by a Russian patrol; Ukrainian troops close in on a key city in Donetsk; New gas pipelines open in Europe.
Key points
Putin ally says 'nuclear' response should be considered after Russians fled city 
Zelenskyy says Ukraine's 'flag is flying' in Lyman   
Director of Zaporizhzhia nuclear plant 'detained by Russian patrol'  
Casualties discovered after attack on civilian convoy 
Putin rages at US in rant over nuclear weapons  
Dominic Waghorn: 'Cornered' Putin is turning 'increasingly desperate'  
Live reporting by Sharon Marris, updates from Alex Crawford in eastern Ukraine and Diana Magnay in Moscow
US hails Ukraine's 'significant' battlefield success at Lyman
The US Defence Secretary has said Ukraine's capture of Lyman from Russia in eastern Ukraine was an encouraging battlefield success that would create new dilemmas for Russia's military.
"Absolutely, it's significant. We're very encouraged by what we're seeing right now," Lloyd Austin told reporters in Hawaii.
Lyman's capture is Ukraine's biggest battlefield gain since a counteroffensive in the northeastern Kharkiv region last month.
Mr Austin noted that Lyman was positioned across supply lines that Russia has used to push its troops and materials down to the south and to the west.
"And without those routes, it will be more difficult. So it presents a sort of a dilemma for the Russians going forward," Mr Austin said.
"And we think the Ukrainians have done great work to get there and to begin to occupy the city."
Mr Austin did not say whether he thought Ukraine's capture of Lyman might prompt Russian escalation, although US officials have widely denounced Russia's nuclear rhetoric in recent days.
"What it means in terms of potential escalation, I won't speculate on that. But what it does mean for the battlefield is that the Ukrainians continue to make progress," Mr Austin said.
"They continue to present problems to the Russians that they'll have to resolve. And again, we all have to be encouraged by what we're seeing."
'Ukraine's flag is flying!' Zelenskyy's message of hope to nation
Ukrainian President Volodymyr Zelenskyy says the Ukrainian flag is flying in Lyman, after Russian troops pulled out of the city.
Lyman is in Donetsk – one of the Ukrainian regions that was annexed by Russian President Vladimir Putin in a ceremony in Moscow on Friday.
But on Saturday, Ukraine said it had surrounded thousands of Russian troops in the area and its forces were inside the city.
Ukraine's defence ministry wrote on Twitter that "almost all" the Russian troops in Lyman had either been captured or killed.
However, Moscow went on to claim it had deliberately pulled out to avoid its troops being encircled.
In his nightly address to his nation, President Zelenskyy confirmed: "The Ukrainian flag is already in Lyman in the Donetsk region".
But he added: "Fighting is still going on there."
Russia has used Lyman as a logistics and transport hub for its operations in the north of the Donetsk region.
Its capture would be Ukraine's biggest battlefield gain since a major counteroffensive in the northeastern Kharkiv region last month.
Mr Zelenskyy also vowed that in the days to come, Ukrainian forces would liberate more towns.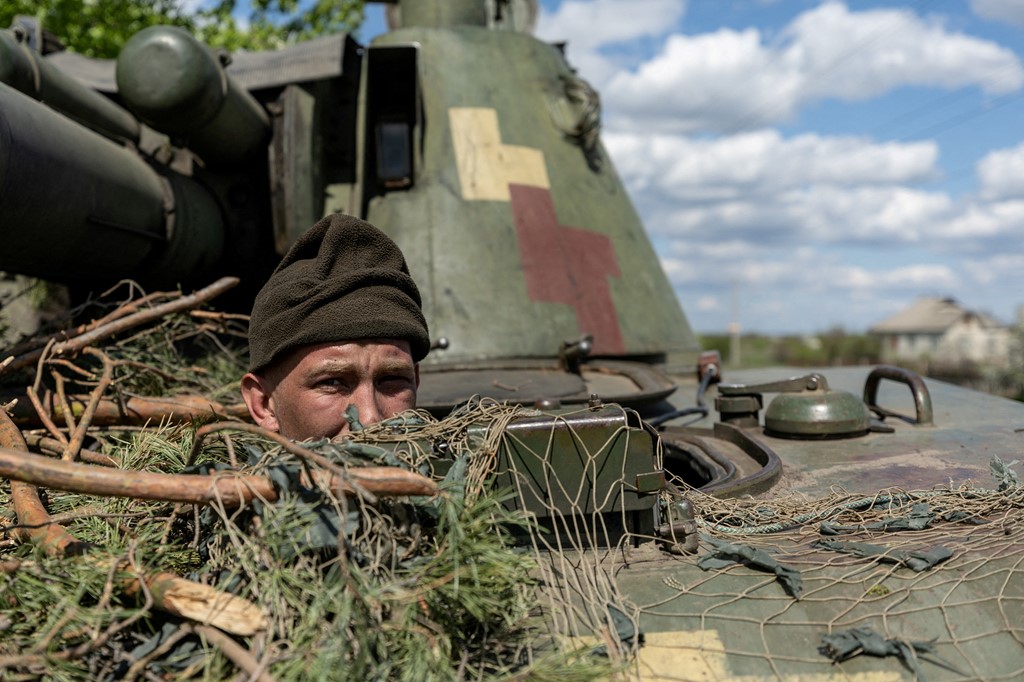 A Ukrainian soldier looks out from a tank, amid Russia's invasion of Ukraine, in the frontline city of LymanReuters
enewed hope for nuclear plant 'protection zone'
Talks about creating a "protection zone" around the Russian-held Zaporizhzhia nuclear power plant (ZNPP) in Ukraine, are expected to be held next week.
UN nuclear watchdog, the International Atomic Energy Agency, said its director Rafael Grossi was due to travel to Kyiv and Moscow in the coming days to "continue his consultations".
It said his efforts during the meetings would be aimed at "agreeing and implementing a nuclear safety and security zone" around the ZNPP "as soon as possible".
Mr Grossi headed an IAEA team which visited the plant to check how secure it was after Russia seized it early in the invasion.
An initial review of it showed its "physical integrity" had been "violated" by fighting nearby.
Both Russia and Ukraine blame each other for the shelling damage, which has led to fears of a radiation catastrophe at the site.
Ukraine forces Russian troops out of city a day after Putin's annexation
Russian troops have pulled out of the city of Lyman in eastern Ukraine due to the risk they were being encircled by Ukrainian forces, a Russian news agency has said.
Lyman was in occupied Donetsk, one of the Ukrainian regions that was annexed by Russian President Vladimir Putin in a ceremony in Moscow on Friday.
Mr Putin has previously threatened retaliation if Russia is attacked.
Read more on this story from our news reporter, Phil Whiteside.Ukraine forces Russian troops out of city a day after Vladimir Putin's annexationSky News
Russia loses UN aviation council seat in Ukraine rebuke
Russia has lost its seat on the UN's aviation agency's governing council after it failed to win enough votes for re-election.
Russia, along with the G7, China, Brazil and Australia, held spots as "states of chief importance in air transport" on the International Civil Aviation Organization's (ICAO) 36-member council.
The result marks a boost for Western powers that wanted to hold Moscow accountable following its invasion of Ukraine.
Russia closed its airspace to airlines from 36 countries, including all 27 members of the EU, in response to Ukraine-related sanctions targeting its aviation sector following Moscow's invasion of Ukraine.
The West says Russia has illegally confiscated hundreds of foreign jets, a charge Moscow denies.
Canada and Europe said before the vote they would oppose Russia's re-election to the council.
In response to the vote, the Russian representative said: "We view this as a purely political step and has nothing to do with Russia's position in the field of civil aviation." 
Russian military recruits pictured training in Moscow
Russia's defence minister Sergei Shoigu (pictured in uniform below) has been with Moscow's mayor Sergei Sobyanin (in the dark jacket) watching recruits train to fight.
These photos are from a video released by the Russian Defence Ministry today.
The recruits are at Patriot Park in Moscow. Many of them will have been part of the most recent mobilisation push announced by Vladimir Putin last week.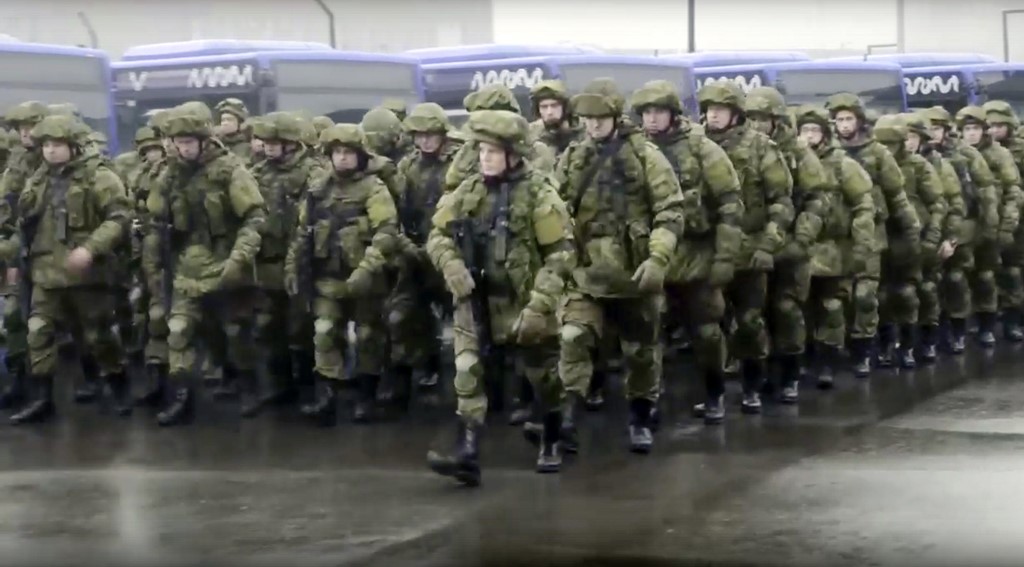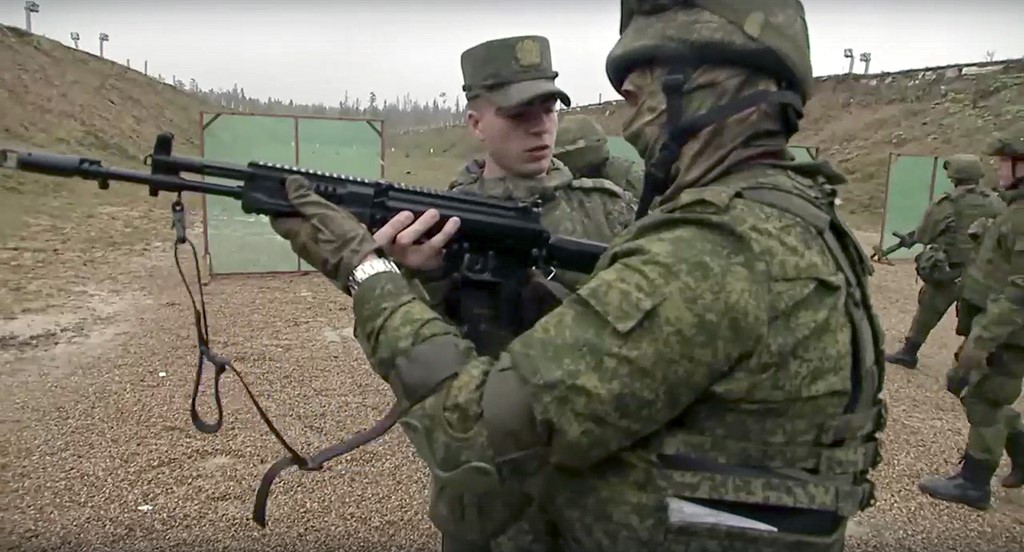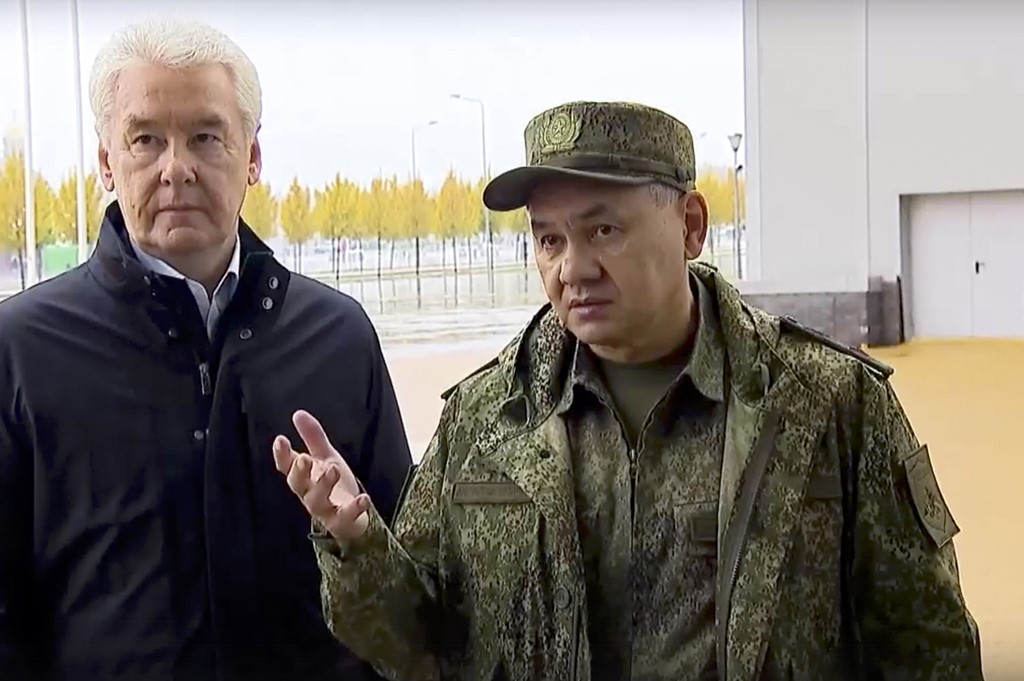 Nord Stream 2 appears to have stopped leaking, Danish energy agency says
The Nord Stream 2 gas pipeline under the Baltic Sea appears to have stopped leaking gas, the Danish energy agency has said.
This follows a leak this week that spewed tonnes of methane into the Baltic Sea.
The agency said on Twitter on Saturday that it had been informed by the company operating the Nord Stream 2 pipeline that pressure appears to have stabilized in the pipeline, which runs from Russia to Germany.
"This indicates that the leaking of gas in this pipeline has ceased," the agency said.
Ulrich Lissek, a spokesperson for the operator, said the development means "either the pipeline is completely empty or the pressure of the gas in the pipeline and of the water outside have reached an equilibrium." 
Analysis by security and defence editor Deborah Haynes: Putin's big test
The recapturing by Ukraine of a city held by Russian forces marks the first big test for Vladimir Putin since he declared the territory to be part of Russia.
One of his allies said on Saturday the president should consider a nuclear strike after losing Lyman, in eastern Ukraine.
The comments by Chechen leader Ramzan Kadyrov came after Ukrainian troops forced remaining Russian soldiers into retreat from the city, extending gains from a major counteroffensive across Kharkiv region deeper into neighbouring Donetsk.
Mr Putin has raised his nuclear rhetoric in recent days as his forces suffered repeated defeats.
He also triggered a series of phoney referendums on joining Russia in four regions, including Donetsk.
In the culmination of this piece of theatre, the Russian leader on Friday declared the land Russian. It means he could choose to treat any attack in the same way as an attack against the true territory of Russia, which includes responses up to the use of nuclear weapons.
The US has said it is taking Moscow's nuclear threats seriously but did not presently see indications of the use of nuclear weapons.
Jake Sullivan, the national security adviser, said on Friday that Washington was taking the risk very seriously and communicating directly with Russia about the issue, including about decisive responses the United States would take if Moscow went down "that dark road".
Russia says it launched 'major fire strikes' before withdrawing from Lyman
Russia's defence ministry says it inflicted serious losses on Ukrainian troops before pulling out of the city of Lyman.
It said it had launched "massive fire strikes", although it did not provide evidence or more details.
"Despite the losses suffered, the enemy, having a significant superiority in forces and means, introduced reserves and continued the offensive in this direction," it said in a statement.
A spokesperson for Ukraine's forces said earlier that "there are battles" after they entered the city.
Russian troops pull out of Lyman: Why is the city important?
Lyman is in the Donetsk region in eastern Ukraine. It sits about 100 miles south-east of Kharkiv, Ukraine's second-largest city.
Before the war, Lyman's population was about 20,000, some 85% of those being Ukrainians.
After the Russians took control of the city, it became a vital transport hub. It was also an important site for ground communications and logistics.
Ukraine now appears to have re-taken the city after Russia pulled out under threat of encirclement.
The victory will allow Ukraine to push further into neighbouring Luhansk – Lyman is only 35 miles west of Severodonetsk, one of the main cities in Luhansk. Severodonetsk fell to Russia late in June.
Donetsk, Luhansk and two other regions were annexed by Russia on Friday, in a move that sparked global condemnation.
Photos show aftermath of reported Russian attack on civilian convoy
Photos have emerged from Ukraine's State Security Service showing the civilian convoy reportedly hit by Russian shelling.
The attack happened between occupied Svatove in the Luhansk region and the Ukrainian-held town of Kupiansk, in a location given as Kharkiv region.
The date of the attack is still unclear but it seems to have been late in September.
Many of the photos are graphic, showing charred human remains, but the one below shows the damaged cars and what appears to be a backpack.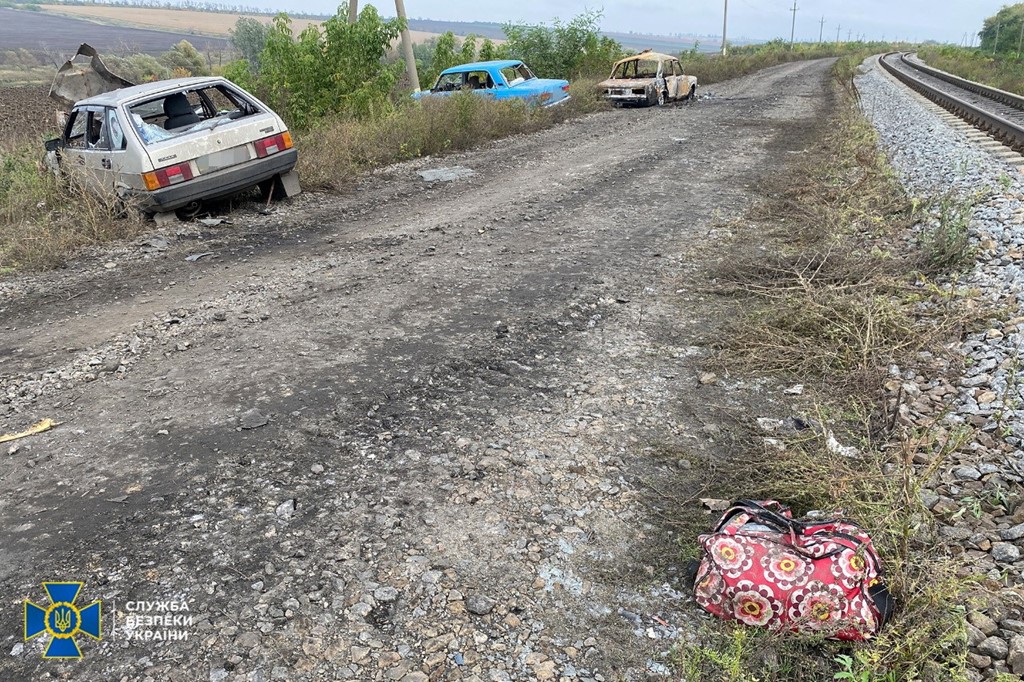 Liz Truss: Damage to Nord Stream pipeline was 'sabotage'
Liz Truss has agreed the cause of the leaks in the Nord Stream pipelines was "sabotage", her spokesperson has said.
The British prime minister was discussing the ruptures in the Russia-Germany gas supply lines with the Danish PM during the latter's visit to Downing Street on Saturday.
It is believed to be the first time Ms Truss has described what happened in the Baltic Sea on Monday as a deliberate act.Liz Truss says 'sabotage' responsible for Nord Stream leaks during meeting with Danish PM