Turkey and Syria: more than 1,700 people confirmed dead after two large earthquakes strike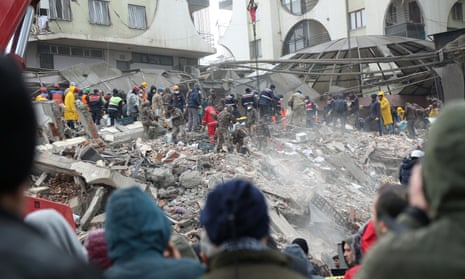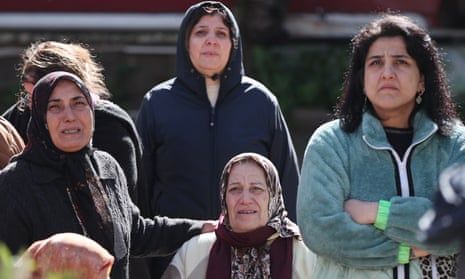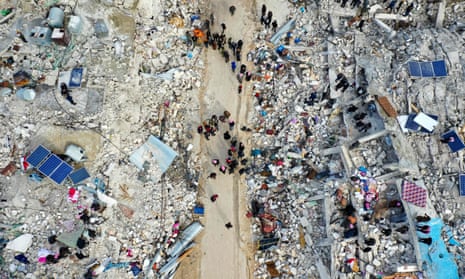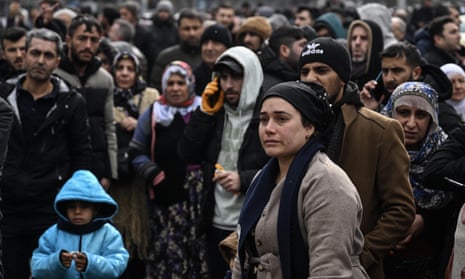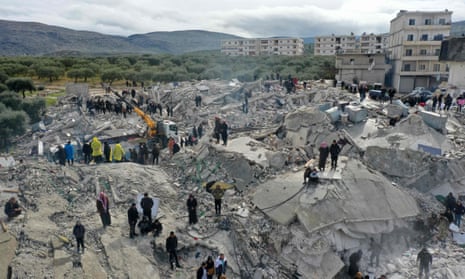 Updated at 13.14 GMT12.42 GMT
US president, Joe Biden, directed USAID and other federal government partners to assess response options to the most affected areas in the Turkey and Syria earthquake, the president's national security advisor said in a statement on Sunday.
The statement from Jake Sullivan added the US is "profoundly concerned" by reports of destruction in both countries.
German chancellor Olaf Scholz offered condolences to Turkish president Tayyip Erdogan, saying Berlin stood ready to help, Reuters reports.
"Our thoughts are with the injured, to whom we wish a speedy and full recovery, and with those who have so unexpectedly lost family members," Olaf said in a message.
Updated at 12.49 GMT12.31 GMT
Summary
At least 1,500 people have been killed after two powerful earthquakes struck Turkey and Syria within the space of 12 hours. The death toll is expected to rise, with search and rescue operations under way across the region as many buildings have collapsed and there are thought to be many people trapped in the rubble.
Official figures from Turkey say 1,014 people were killed there, 5,383 were injured, and 2,818 buildings had collapsed. Syria's health ministry said that more than 326 people had been killed and 1,042 injured. In addition to those figures, the White Helmets rescue service in the north-west of Syria in areas not controlled by the government put their death toll at 221, giving a total of 1,561 confirmed dead.
More than 10 search and rescue teams from the European Union have been mobilised in the wake of the earthquake that has hit Turkey, a spokesperson for the European Commission said. The US, UK, Israel, Russia and China are among other nations to have made public offers of assistance.
The first quake struck as people slept, and measured magnitude 7.8, one of the most powerful quakes in the region in at least a century. It was felt as far away as Cyprus and Cairo. The European Mediterranean Seismological Centre (EMSC) said preliminary data showed the second large quake measured 7.7 magnitude, and was 67km (42 miles) north-east of Kahramanmaraş, Turkey, at a depth of 2km. There have been more than a 100 smaller aftershocks registered by seismologists.
The first quake had its epicentre near Gaziantep, and it has damaged the historic castle there which had been in use since Roman times.
Turkey's armed forces have set up an air corridor to enable search and rescue teams to reach the zone affected.
Turkey's Akkuyu nuclear power plant, which is under construction, was not damaged by the earthquake, an official from the Russian company building the plant said.
The International Rescue Committee (IRC) has called for increased funding for humanitarian aid in Syria, saying that many people in the north-west of the country have already been displaced up to 20 times, and that medical care in the region was "strained beyond capacity, even before this tragedy".
The World Health Organization (WHO) said it was concerned about areas in Turkey from which there had been no news following the earthquake.
In 1999, a tremor of similar magnitude to today's quakes in Turkey devastated Izmit killing more than 17,000. Turkey's president Recep Tayyip Erdoğan has described Monday as the worst disaster for the country since 1939, when an earthquake killed over 32,000 people and injured more than 100,000.
Updated at 12.55 GMT12.13 GMT
Turkey death toll rises by 102
Reuters has a quick snap that the official death toll in Turkey has risen by 102 to stand at 1,014 people killed.
Updated at 12.34 GMT12.10 GMT
China is willing to provide humanitarian emergency aid to earthquake-struck Turkey and Syria, Reuters reports the state council's foreign aid agency said on Monday.
12.07 GMT
The International Rescue Committee (IRC) has issued a statement following the quakes in Turkey and Syria, expressing concern particularly that initial reports from staff on the ground in Syria indicate that the impact has been devastating in areas that already host a high number of displaced and vulnerable families.
Tanya Evans, the Syria country director for IRC said:
This earthquake is yet another devastating blow to so many vulnerable populations already struggling after years of conflict. It is a crisis within multiple crises – temperatures are plummeting to below zero leaving thousands exposed. Women and children will find themselves particularly at risk of exploitation and abuse should they find themselves once again displaced. Many in northwest Syria have been displaced up to 20 times and with health facilities strained beyond capacity, even before this tragedy many did not have access to the health care they critically need.
Evans called on the international community to "urgently increase critical funding" for the Syria humanitarian response plan, which the IRC says is "already severely underfunded with less than 50% of the required $4bn" in place.