Tripura: Fear and hope after anti-Muslim violence
A few children are trying hard to focus in the only classroom of a makeshift, government-run, madrassa in India's north-eastern state of Tripura.
They find it hard to take their eyes off an iron-grilled window that offers a view of the neighbouring compound.
One of the class teachers walks up to us with folded hands, saying, "Hope all is well, sir, and nothing to worry?"
A single-storied mosque damaged by a stone-pelting mob stands next door. Inside, there are broken doors hammered by bricks, twisted fan-blades and shattered windowpanes.
The Chamtila mosque is surrounded by both Hindu and Muslim homes but most people prefer to stay indoors after more than 10 incidents of religious violence were reported from the district of North Tripura in October.
Local reports said some mosques were vandalised and burnt down during the violence. Bhanu Pada Chakraborty, a senior police official in the district, denied reports of mosques being torched, but said some had been vandalised, without confirming a number.
There are disturbing scenes a mile further north of Chamtila, where at least five shops were burnt by the same mob that vandalised the mosque. All shops belong to minority Muslims in the Rowa village.
Three shops have been totally gutted by the fire. Ameeruddin, who owns one of them, has fallen back on his savings to sustain a family of five.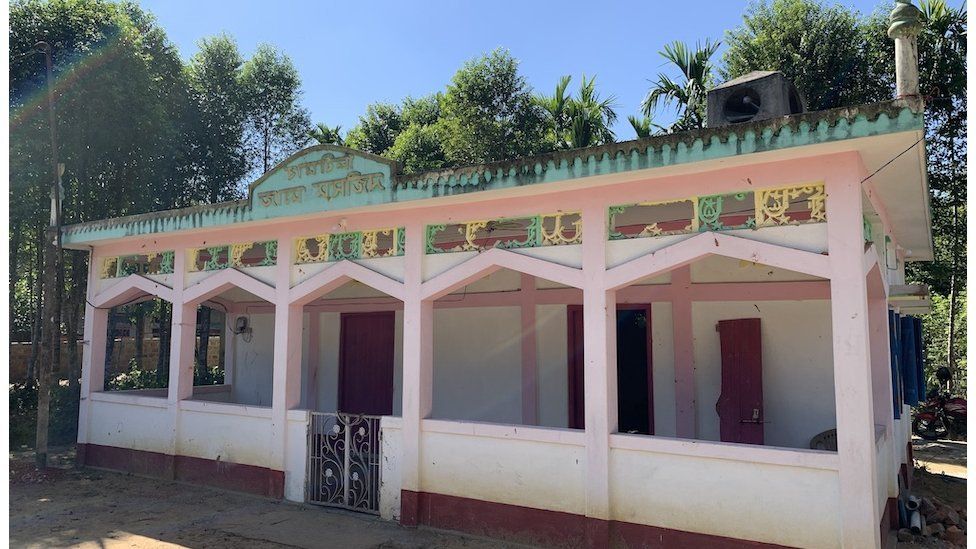 "I was standing right across the paddy field when a mob attacked our village market. Since they could not reach our homes due to some police presence, their wrath turned towards these shops, which are closed in the afternoon for a few hours," he told me.
The police said they were investigating complaints about the damage to the mosque and shops.
The attacks followed a huge rally taken out on 26 October by the hardline Hindu organisation, Vishva Hindu Parishad (VHP) – a close ally of India's ruling Bharatiya Janata Party (BJP) – and half a dozen other religious groups in the border town of Panisagar. They were protesting against recent attacks on Hindus in neighbouring Bangladesh, which encircles Tripura on three sides.
Tripura has been run by BJP since 2018 after 25 years of Communist rule. The opposition has blamed the ruling party of trying to mix religion with politics to win elections, an allegation the BJP strongly denies.
"I feel minority Muslims are safer under our government. We are closely knit communities and whatever happened is unfortunate. Our political opponents try to defame PM Narendra Modi since we are part of seven ruling governments in the north-east," Biswa Bandhu Sen, deputy speaker of Tripura's Legislative Assembly and a BJP legislator from North Tripura, told me.
Muslims make up less than 9% of Tripura's 4.2 million population which has 83% Hindus, many of whom arrived from Bangladesh.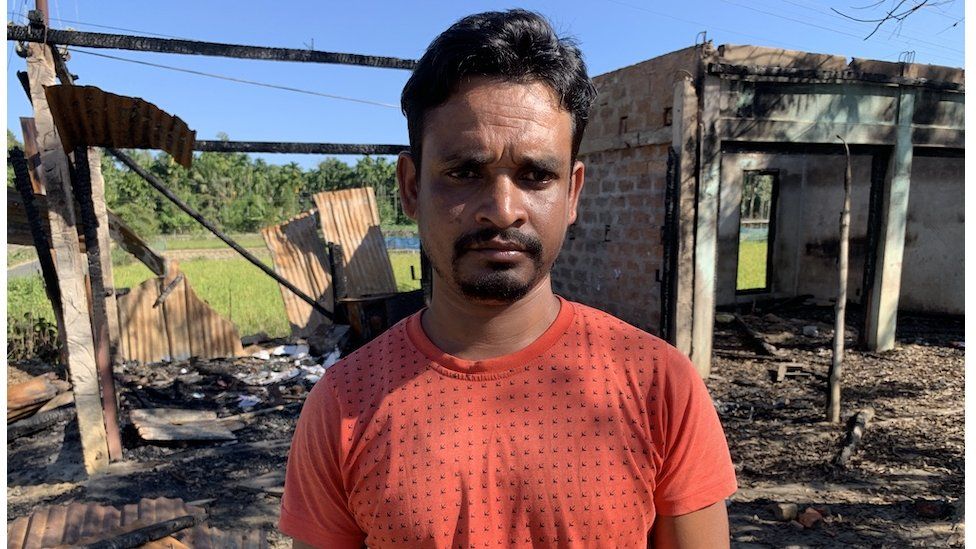 People who have been living together for decades are in a state of shock and disbelief over the sudden surge in communal frenzy.
Initial reports put the number of participants in the right-wing rally at around 3,000, but the police believe it was higher.
"Around 10,000 people took part in the rally and both Hindus and Muslims have accused each other of undue provocation, which is being investigated. After the mosque and shops were vandalised in Panisagar, Muslims took out a procession in protest late at night", said Mr Chakraborty.
Not far from Panisagar lies Kadamtala town, which borders the state of Assam.
As rumours of mosques and shops being vandalised travelled on social media, a huge crowd comprising Muslims gathered in Kadamtala, shouting slogans and demanding "immediate arrests of the perpetrators of violence".
At Churaibari, a nearby village, some Hindu residents alleged targeted attacks by Muslims. The Saha family, living in a two-storeyed house, showed us mobile phone videos of a small crowd throwing stones and damaging their two parked cars.
Sonali Saha, 18, says she has been unable to sleep properly since then.
"I was studying around ten at night when this mob arrived and threw stones and glass bottles. They were gone within 10-15 minutes but I was really scared as my mother scurried to lock all doors and windows", she told me.
Islamuddin, the local lawmaker from the opposition Communist Party of India( Marxist), said that the "unprecedented" violence had scarred both Hindus and Muslims.
"Sustained efforts will be needed to heal them," he added.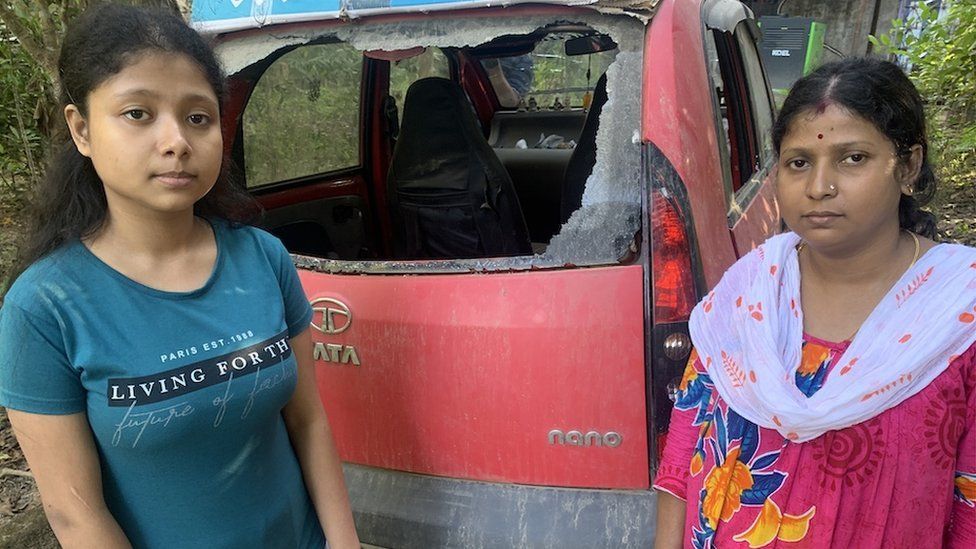 A few weeks after the incident, Tripura's state government detained two women journalists for "spreading communal disharmony" but they were granted bail by a court. BJP leaders, however, deny any "agenda to curtail free speech and journalism".
"We believe in fairness of journalism and certainly never try to curtail their independence. It's all propaganda by some sections of the media against us," said Mr Sen.
The BBC team was summoned to the Panisagar police station to outline our visit's purpose and were monitored by local policemen while filming interviews of the Muslim shop owners in Rowa.
As of now, life in the state appears to be limping back to normalcy, but anxieties remain over the future.
"It has been difficult for us and kind of unbelievable, too. But we are rebuilding our lives again, hoping this won't happen, ever again," said 34-year-old Amir Hussain, whose shop was partially damaged by the mob.