Train strikes: Services start later after latest walkout ends
Train passengers are being warned to expect disruption to continue after the latest round of strikes by rail workers come to an end.
Members of the RMT union who work for Network Rail ended their latest walkout over pay and conditions at 06:00 GMT.
The later start means many trains did not begin running until 09:00 and did not start until midday in some places.
Network Rail said 70% of services will be operating but it has urged passengers to check their travel times.
The first train from London to Edinburgh was due to leave at 10:30 but it was nearly 30 minutes late.
Most services will not call at York due to engineering work at the station, London North Eastern Railway said.
Lumo, which also runs services between London and Edinburgh, said due to a train being late from the depot earlier trains may be delayed and disruption is expected until 15:00.
Trains did not run to or from Euston until midday due to engineering work.
London's Liverpool Street station is shut due to works, and there are limited services from London Victoria.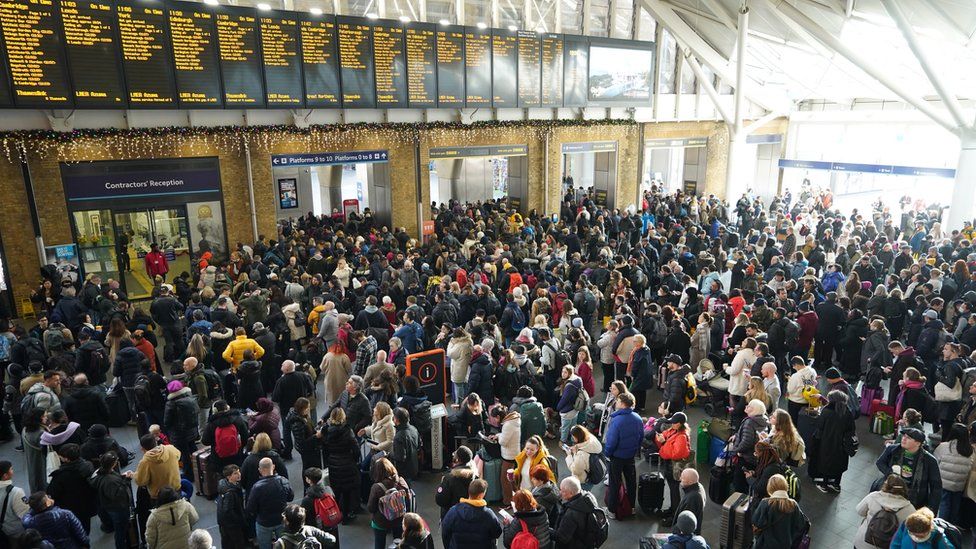 Rail disruption in the capital comes at the same time as bus drivers are taking industrial action that is affecting routes mostly in south and west London.
The BBC's international business correspondent Theo Leggett reported from a crowded London Paddington station.
He said plenty of passengers were turning up for trains this morning, only to be told to expect delays.
Repeated announcements suggested parts of the railway were about to reopen – only for the schedule to slip even further.
But there was little sign of anger. Most people seemed resigned to what was going on – and several expressed sympathy for the strikers.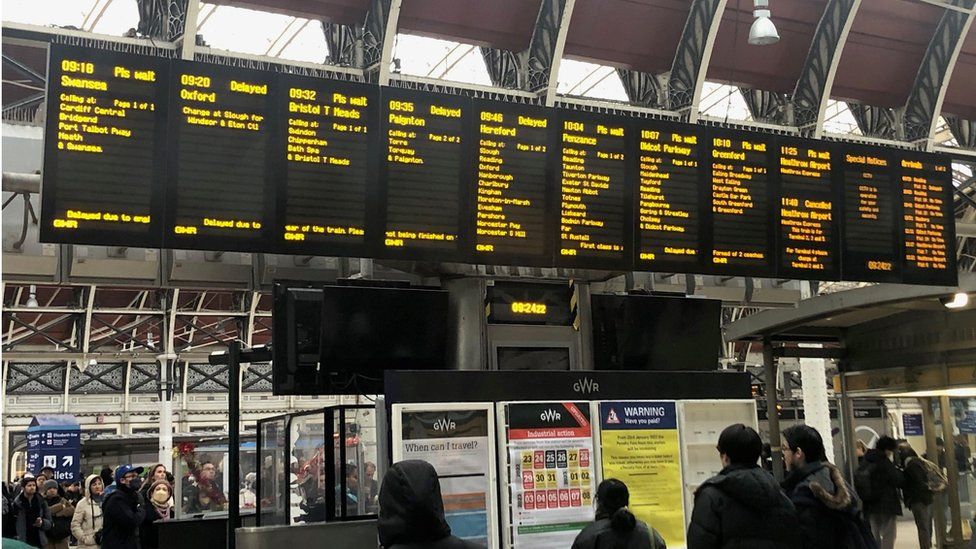 The Gatwick Express rail service to Victoria is suspended and Heathrow Express trains from Paddington did not resume until after 11:00 with the 11:40 and 12:55 cancelled.
The express from Heathrow Terminal 5 at 12:12 and 13:27 are also cancelled.
There were no trains due out of London Stansted Airport into the capital until after 08:00. Long queues had snaked outside the airport's arrivals hall overnight as people waited for bus services into London.
Adding to the delays for travellers, 1,000 Border Force passport control staff at Birmingham, Cardiff, Glasgow, Gatwick, Heathrow (terminals 2, 3, 4 and 5) and Manchester airports, went on strike on Boxing Day and will walk out again from Wednesday to Saturday.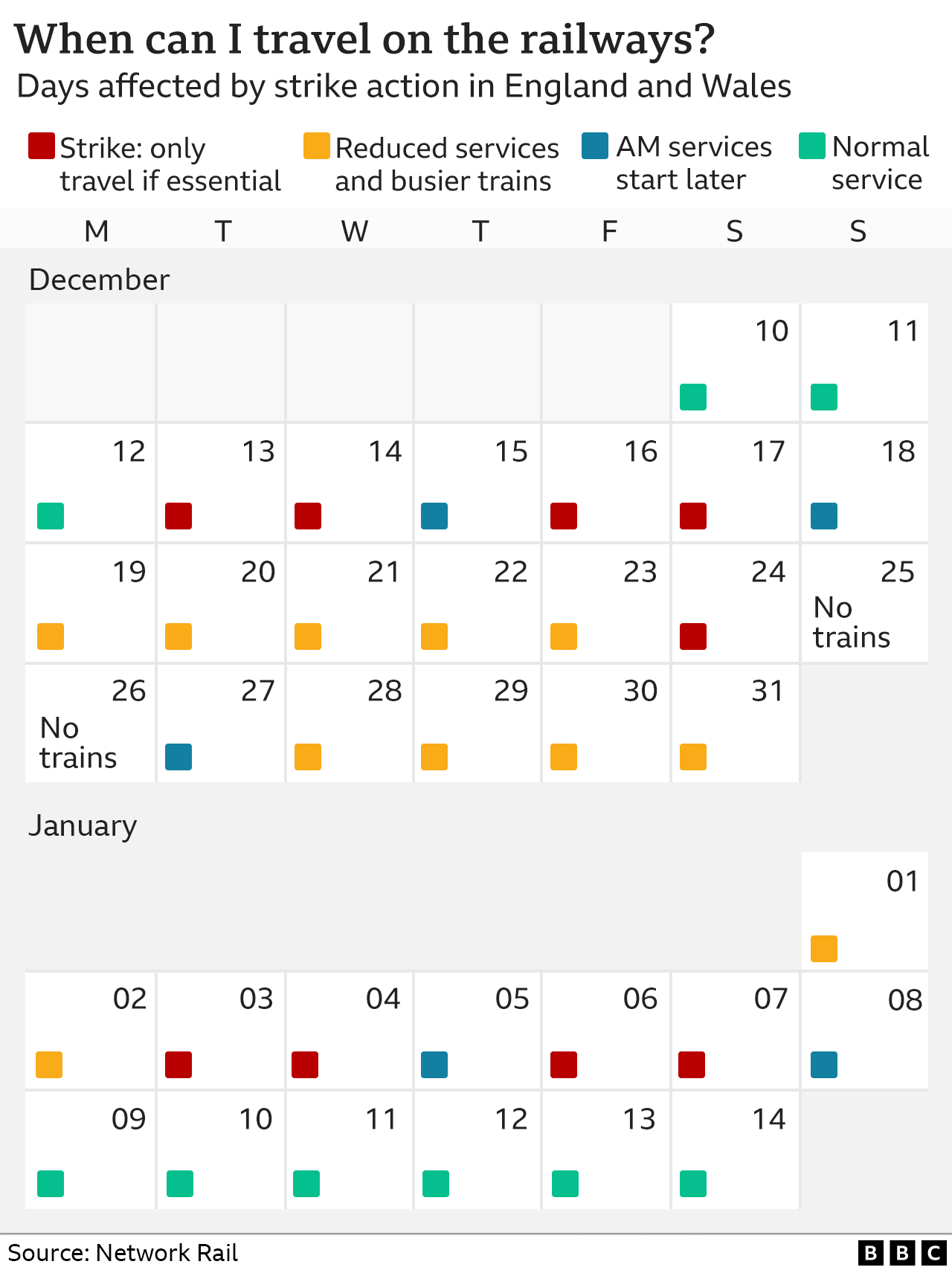 A spokesman for Network Rail said: "Staff are returning to work so it is [a] much later start-up for passenger services."
"Passengers should really check before they travel so they don't just turn up at a station for no trains to be there."
ScotRail said most services had started by 08:00 but warned in some parts of the country, such as Stirling, there would be no trains until 17:00 due to the shift start times of Network Rail signallers.
Thousands of RMT members across Network Rail, which operates and maintains the rail system, and 14 train companies have been engaged in strike action in a row over pay and conditions.
It coincides with wider industrial unrest across a number of sectors including nurses and ambulance drivers as well as Border Force workers at six of the UK's biggest airports.
Employees are walking out over pay at a time when the rate of price rises, or inflation, is running at a 40-year high.
Rail strikes will restart between 3 and 4 January as well as from 6 to 7 January.
In the meantime, there is an overtime ban by RMT members at 14 train companies, which is scheduled to run until 2 January.
Network Rail hopes service levels will increase to 90% in the days ahead.
However, it expects this will drop to 20% of normal services once the next set of strikes begins in early January.
Mick Lynch, general secretary of the RMT, said: "The union remains available for talks to resolve this dispute.
"But until the government gives the rail industry a mandate to come to a negotiated settlement on job security, pay and condition of work, our industrial campaign will continue into the new year, if necessary."
A spokesman for Network Rail said: "The only way we're going to resolve any industrial dispute is by negotiation and by talking so of course we'll look to sit round the table.
"It is just unclear at the moment where we can go as all the cards we have to deal are already on the table."
Meanwhile, members of the Transport Salaried Staffs' Association (TSSA) at CrossCountry staged a 24-hour strike from 21:00 on Boxing Day.
It is part of a long-running campaign for a guarantee of no compulsory redundancies, no unagreed changes to terms and conditions, and a pay increase which addresses the rising cost of living.
The strikes involve staff who work in customer service management, driver management, training, control, customer communications, safety, timetabling and planning.
The union said it believes these walkouts will severely affect services at CrossCountry, which run from Penzance to the Midlands, Wales and northern England through to Scottish cities as far north as Aberdeen.
There are no services running north of York, Cross Country said. It also warned trains running north of Banbury and services from Reading to Manchester would be "extremely busy".
TSSA members at Great Western Railway will strike from noon on Wednesday to 11.59 on Thursday, and at West Midlands Trains from noon on Wednesday to noon on Thursday.