Salman Rushdie stabbed live updates: Iran-backed Hezbollah says it has no information about attack on Rushdie
Salman Rushdie, the author whose writing led to death threats from Iran in the 1980s, was attacked Friday as he was about to give a lecture in western New York. He was rushed to hospital where underwent a surgery. He has injuries to vital organs, and might lose sight in one eye, reports said.
20:36 (IST) Aug 13
24-year-old Hadi Matar charged with attempted murder in second degree after stabbing author Salman Rushdie at an event in New York state: Chautauqua County District Attorney18:22 (IST) Aug 13
An official from Iran-backed Lebanese armed group Hezbollah said on Saturday the group had no additional information on the stabbing attack on Salman Rushdie.
"We don't know anything about this subject so we will not comment," the official told Reuters, speaking on condition of anonymity.17:08 (IST) Aug 13
In an interview conducted just weeks before he was stabbed and seriously wounded by an attacker in New York state, author Salman Rushdie said his life was now "relatively normal", after having lived in hiding for years because of death threats.17:08 (IST) Aug 13
Hindi film celebrities such as Javed Akhtar, Kangana Ranaut and Swara Bhasker have criticised the attack on renowned novelist Salman Rushdie, calling it an "appalling" and "barbaric" act.
15:36 (IST) Aug 13
Boris Johnson, Sunak, Truss express shock at Rushdie stabbing
Prime Minister Boris Johnson was among several senior politicians and authors in the UK who took to social media to express their shock at the "appalling" attack on Booker Prize-winning author Sir Salman Rushdie, condemning the stabbing in New York as an attack on freedom of expression."Appalled that Sir Salman Rushdie has been stabbed while exercising a right we should never cease to defend," tweeted Johnson."Right now my thoughts are with his loved ones. We are all hoping he is okay," he said.Former Chancellor and contender to succeed Johnson as the new Prime Minister, Rishi Sunak, also took to Twitter to express his shock."Shocked to hear of the attack on Salman Rushdie in New York. A champion of free speech and artistic freedom. He's in our thoughts tonight," he said.Foreign Secretary Liz Truss, the other finalist in the Conservative Party leadership election, said: "Disgraceful attack on Sir Salman Rushdie. People must be able to speak freely and freedom of speech must be defended."My thoughts are with him, his family and loved ones."15:35 (IST) Aug 13
French satirical magazine Charlie Hebdo slams Rushdie stabbing
French satirical magazine Charlie Hebdo, whose 12 staff members were gunned down in 2015 over cartoons about Prophet Mohammed considered blasphemous by many Muslims, said Saturday that nothing justified the stabbing of Salman Rushdie. "Nothing justifies a fatwa, a death sentence," Charlie Hebdo said."At the time we are writing these lines we do not know the motives" of the attacker, it said, speculating ironically whether it was spurred by global warming, the decline in purchasing power, or a ban on watering potted plants during the current heatwave.The magazine's managing editor, known as Riss and a survivor of the 2015 attack, said the Rushdie's assailant was probably a practicising Muslim and slammed the "little and mediocre spiritual heads who are intellectually nil and culturally ignorant".
14:53 (IST) Aug 13
Salman Rushdie once complained about 'too much security' around him: Report
In 2001, Rushdie publicly complained about having too much security around him, The New York Post reported.While attending the Prague Writers' Festival, he told reporters, "To be here and to find a large security operation around me has actually felt a little embarrassing… I thought it was really unnecessary and kind of excessive and was certainly not arranged at my request.""I spent a great deal of time before I came here saying that I really didn't want that. So I was very surprised to arrive here and discover a really quite substantial operation, because it felt like being in a time warp, that I had gone back in time several years," he was quoted as saying.
13:23 (IST) Aug 13
'Utterly horrified and shocked': Tharoor
Congress leader and author Shashi Tharoor on Saturday said he was "utterly horrified" by the stabbing of novelist Salman Rushdie in New York and expressed concern over whether creative expression can be free and open. "Utterly horrified & shocked by the stabbing of @SalmanRushdie. Wish him a speedy & complete recovery from his wounds, even though, with a sinking heart, I recognize that life for him can never be the same again," Tharoor tweeted."A sad day, worse if creative expression can no longer be free & open," he said.13:00 (IST) Aug 13
Was part of decision to ban 'The Satanic Verses'; told then PM book should be banned as it could cause law & order issue: Natwar Singh12:59 (IST) Aug 13
Rajiv Gandhi govt's decision to ban 'The Satanic Verses' was justified, taken purely for law & order reasons: K Natwar Singh
12:10 (IST) Aug 13
Iran conservative media hail Salman Rushdie attacker
Iranian ultra-conservative newspaper Kayhan on Saturday hailed the assailant who attacked British author Salman Rushdie — the target of a 1989 Iranian fatwa calling for his death. "Bravo to this courageous and duty-conscious man who attacked the apostate and depraved Salman Rushdie in New York," wrote the paper, whose chief is appointed by current supreme leader Ayatollah Ali Khamenei."Let us kiss the hands of the one who tore the neck of the enemy of God with a knife," the daily added.With the exception of reformist publications including Etemad, the majority of Iranian media followed a similar line, describing Rushdie as an "apostate".
2:02 (IST) Aug 13
Rushdie and The Satanic Verses controversy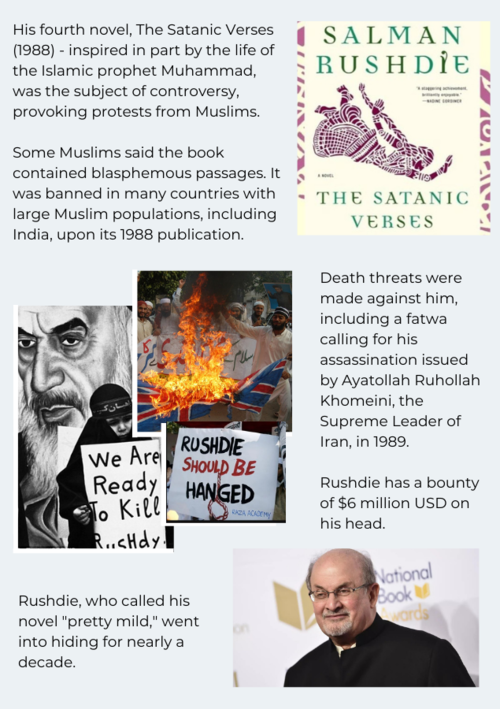 12:01 (IST) Aug 13
Who is Salman Rushdie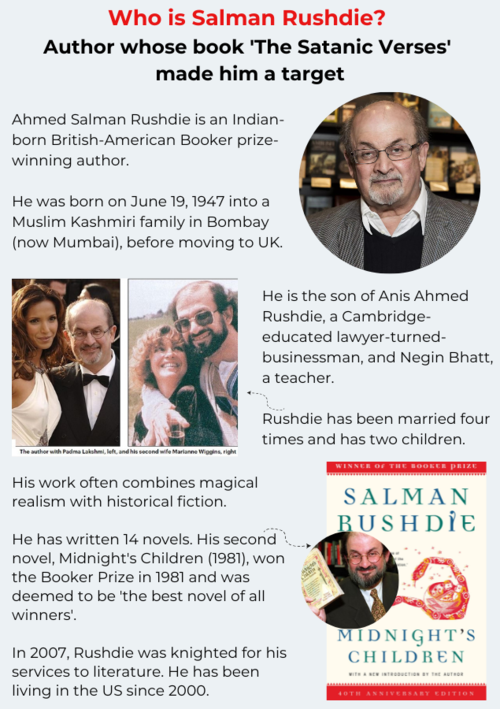 10:41 (IST) Aug 13
Suspect in Rushdie's stabbing showed sympathy to causes of Iran's Revolutionary Guards: Report
The 24-year-old man detained in connection with the stabbing of Mumbai-born controversial author Salman Rushdie was sympathetic to "Shia extremism" and the causes of Iran's Islamic Revolutionary Guard Corps, according to a media report. A preliminary review of Matar's social media accounts by law enforcement showed him to be sympathetic to Shia extremism and the causes of the Islamic Revolutionary Guard Corps (IRGC), a law enforcement person with direct knowledge of the investigation told NBC News.Though there are no direct links between Matar and the IRGC, law enforcement officers reportedly found images of slain commander Qassem Solemani and an Iraqi extremist sympathetic to the Iranian regime in a cell phone messaging app belonging to Matar, according to NBC News.
09:36 (IST) Aug 13
Suggestions to enhance security for event ignored?
The leadership at the Chautauqua Institution rejected past recommendations to increase security at events, two sources told CNN.The recommendations for basic security measures, such as bag checks and metal detectors, were rejected because the leadership feared it would create a divide between speakers and the audience, and would change the culture at Chautauqua, the report said.
09:33 (IST) Aug 13
Police are working with the FBI and local authorities to determine the motive behind attack09:32 (IST) Aug 13
Rushdie was airlifted from a field adjacent to the venue where he was attacked to a hospital in northwestern Pennsylvania where the 75-year-old writer underwent surgery09:10 (IST) Aug 13
Salman Rushdie will likely lose one eye, the nerves in his arm were severed and his liver was stabbed and damaged: Rushdie's agent08:24 (IST) Aug 13
February 14, 1989: The fatwa against Salman Rushdie
Friday's knife attack on Salman Rushdie comes more than 33 years after the fatwa against him by Iran's supreme leader Ayatollah Ruhollah Khomeini, in which he sentenced him to death.On February 14, 1989 Khomeini called for him to be killed for writing "The Satanic Verses", which the cleric said insulted Islam.In a fatwa, or religious decree, Khomeini urged "Muslims of the world rapidly to execute the author and the publishers of the book" so that "no one will any longer dare to offend the sacred values of Islam."