'Russia lacking munitions to achieve success on offensive'
Ukraine war latest: Top minister in Putin's war effort fired – as Russia 'does not have enough munitions'
Russia's weapons manufacturers are failing to meet war-time demands and the country does not have enough munitions to achieve success on the offensive, the UK's MoD has said.
Ukrainian farmer uses remote-controlled tractor to remove mines
A Ukrainian farmer has come up with a novel way to remove mines left in his fields by fitting his tractor with protective panels stripped from Russian tanks and operating it by remote control.
After Russian forces were driven back from parts of eastern Ukraine by a Ukrainian counteroffensive last year, mines remained in many fields, making it perilous for farmers to sow grain for the next harvest.
However, Oleksandr Kryvtsov has designed a remote-controlled tractor that can withstand blasts to remove mines from his farm in the village of Hrakove in the east.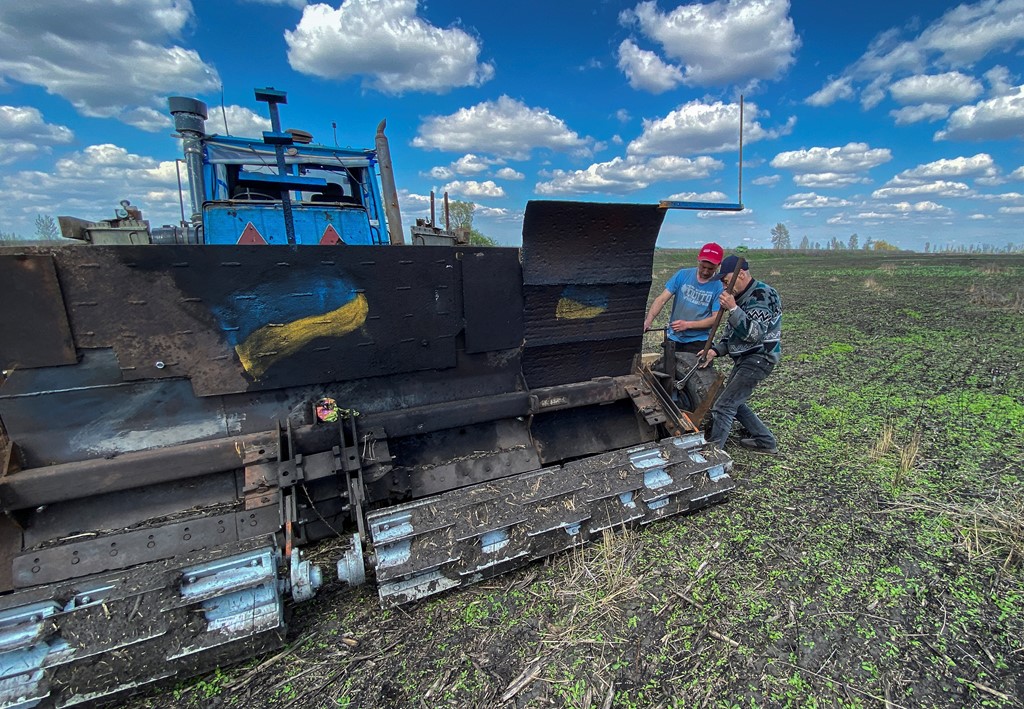 "We started doing this just because the crop-sowing time has come and we can't do anything because the rescue services are very busy," Mr Kryvtsov told Reuters.
"We ran over an anti-tank mine. The protection got blown out (but) the tractor is safe.
"Everyone's alive and safe. The equipment was restored and repaired."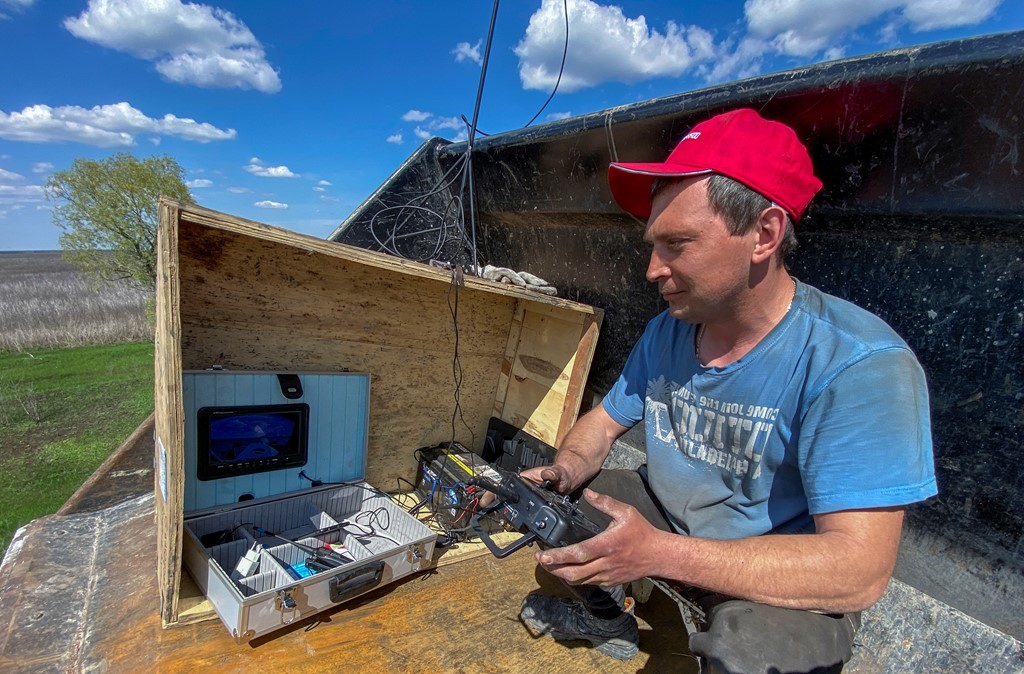 Oleksandr Kryvtsov
Russia 'changes tactics' to try to speed up Ukrainian counteroffensive, official claims
Russian forces have changed tactics when it comes to using missiles against Ukraine and are now targeting civilian structures, an adviser to Volodymyr Zelenskyy has said.
Mykhailo Podolyak said the Kremlin was targeting civilians in an effort to speed up the widely reported Ukrainian counteroffensive which is set to begin.
"It's quite obvious that there's been a certain shift in tactics," the Ukrainian news outlet RBC Ukraine quoted him as saying.
"There can be no doubt, because they're carrying out direct strikes on civilian apartment buildings and areas containing a lot of civilian housing."
Mr Podolyak said the Kremlin was using this approach to achieve several goals, one of which was leading the Ukrainian military to launch a counteroffensive sooner than it otherwise would, leaving it relatively ill-prepared.
He also claimed that Russia was hoping that civilian deaths would in turn increase calls from the West for peace negotiations.
Black Sea grain deal talks set for tomorrow – report
Talks on a UN-brokered deal that allows the safe Black Sea export of Ukrainian grain are scheduled for tomorrow, a senior Ukrainian source has said.
The source told Reuters: "Talks are scheduled for tomorrow. All parties… hopefully there will be results."
For context: The deal brokered by the United Nations and Turkey last July, which allows Ukrainian grain trapped by the conflict to be safely exported from the country's Black Sea ports, is set to expire on 18 May.
Russia has said that parts of the deal that are meant to allow Moscow to export its own agricultural goods via the Black Sea ports are not being honoured.
It has strongly signalled that it will not allow the deal to continue beyond the expiry date because a list of demands to facilitate its own grain and fertiliser exports have not been met. 
Two Canadians killed in Bakhmut
Two Canadians have been killed in the besieged eastern city of Bakhmut, the Canadian broadcasting channel CBC News reports.
The men were both serving in Ukraine's international legion which has been bearing the brunt of Russian attacks in the region.
One of the men had been in contact with CBC News before his death and had described the scene in the area as a "meat grinder" and said he was "figuring out" how to survive.
The group's commander told the news outlet that the Canadians were part of a larger group of soldiers tasked with holding an important supply route into Bakhmut.
Russian forces have steadily made incremental gains in Bakhmut, but Ukraine said on Sunday that it was still possible to supply its fighter with food, ammunition and medicine.
Kyiv is widely expected soon to launch a counteroffensive to retake swathes of territory in the east and south that were occupied by Russian forces last year.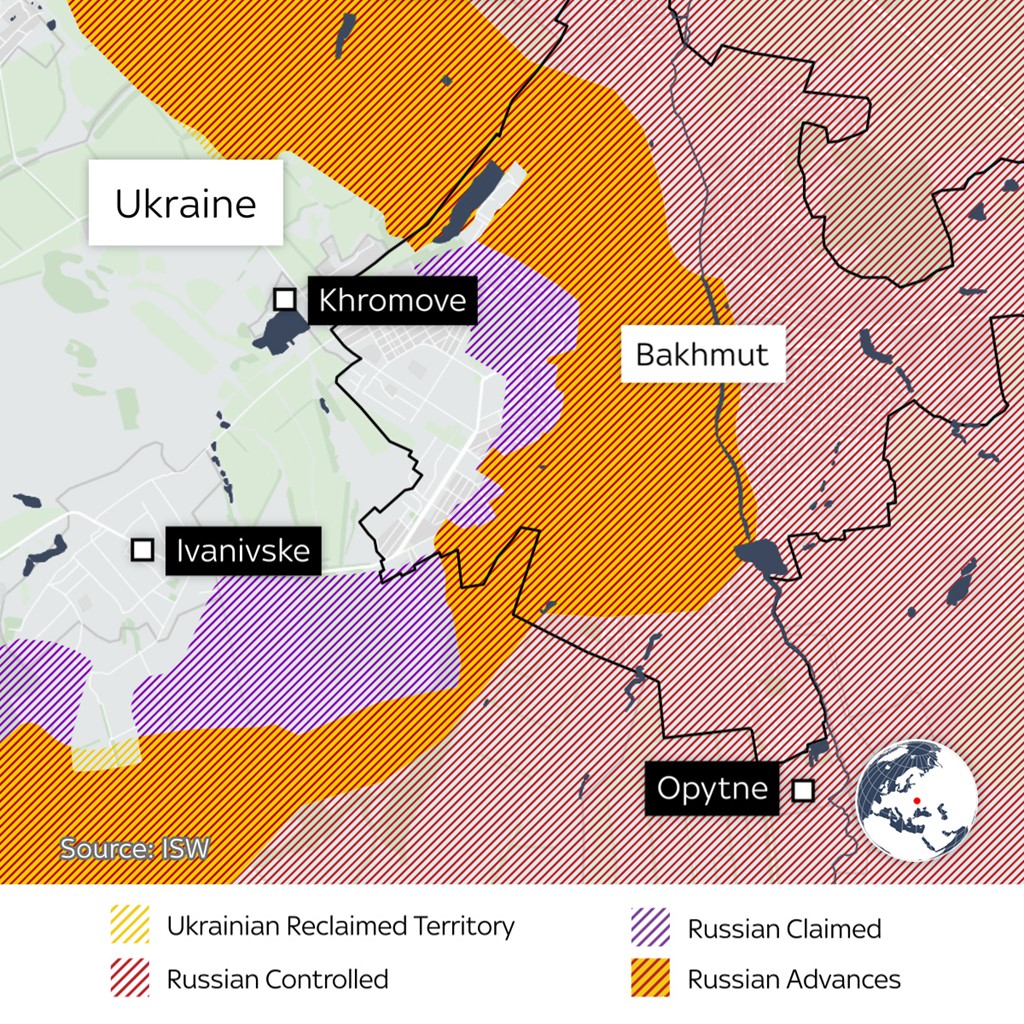 Bakhmut region in eastern Ukraine
Wagner boss using rehabilitated standing with Kremlin for 'self-promotion'
Wagner Group boss Yevgeny Prigozhin is likely using his rehabilitated standing with Russian leaders to "amplify his self-promotion efforts" and his "longstanding issues" with the Kremlin, the Institute for the Study of War (ISW) reports.
The American thinktank notes that Russian sources circulated an alleged letter from the Russian Ministry of Defence (MoD) to Mr Prigozhin last week.
The letter, dated 23 April, was in response to his recent interview threatening to withdraw Wagner forces if the Russian military failed to provide more ammunition.
Mr Prigozhin responded by stating that the figures provided were still not sufficient for what Wagner needed to complete its assigned tasks.
Then, yesterday, Mr Prigozhin claimed that Wagner was in possession of large stocks of weapons it captured from Ukrainian forces during the seizure of Soledar in the east.
He also "rhetorically boasted" that he had enough arms to support a million-strong army and suggested that he would offer to exchange these stocks of weapons for the resources that Wagner required.
The ISW stated: "Prigozhin will likely continue to rely on his existing informational lines of attack to promote himself and seek further privileges from the Russian military as he retains a rehabilitated standing with Russian leadership."
Putin orders Kremlin to clarify rules on dividend payments to 'unfriendly' investors
Vladimir Putin has ordered his government to "clarify" the procedure for how Russian companies can make dividend payments to shareholders from so-called "unfriendly countries".
Russia considers all countries that have hit it with sanctions over its invasion of Ukraine to be "unfriendly".
It has hit back with its own package of counter-sanctions and capital controls which restrict the ability of companies and investors from these countries to transfer profits or dividends back home.
The Kremlin said proposals on dividend payments should "include conditions that residents expand their production in Russia, develop businesses based on new technologies and invest in the Russian economy".
Mr Putin has now asked the government to come up with proposals by 20 May, a document published by the Kremlin said.
Scores of foreign companies have exited the Russian market since Moscow sent tens of thousands of troops into Ukraine last February, while many others are still trying to wind down their businesses.
The Kremlin triggered fresh fears it could be prepared to nationalise foreign businesses last week with a decree to take "temporary control" of the Russian assets of Finnish energy group Fortum and Germany's Uniper.
Fire after 'Ukrainian forces shell Russian village'
A village in the Russian Bryansk region, which borders Ukraine, has been shelled by Ukrainian forces, the local governor has claimed.
In a statement on Telegram, Alexander Bogomaz claimed the armed forces of Ukraine had shelled the village of Kurkovichi in the Starodubsky district.
"There were no casualties. As a result of the shelling, a fire broke out in one of the households. All emergency services are on site," he said.
Sky News has not been able to verify the report.
On Monday, a locomotive and seven freight wagons were derailed in Bryansk after an unidentified explosive device went off, Mr Bogomaz added.
Russian authorities say the region – which borders both Ukraine and Belarus – has seen multiple attacks by pro-Ukrainian sabotage groups in the 14 months since Russia invaded.
Ukraine almost never publicly claims responsibility for attacks inside Russia and on Russian-controlled territory in Ukraine.
'Russia lacking munitions to achieve success on offensive'
Russian forces do not have enough munitions to achieve success on the offensive, the UK's Ministry of Defence reports.
In its latest intelligence update, the MoD notes a development reported by Russian military-linked social media. These claim Kremlin defence minister Colonel-General Mikhail Mizintsev has been dismissed after holding his post for only eight months.
It states that Mr Mizintsev's sacking was not immediately confirmed, but speculation about his future "highlights how logistics problems remain at the heart of Russia's struggling campaign in Ukraine".
"Russia does not have enough munitions to achieve success on the offensive," the ministry adds.
The ministry goes on to say that Russia continues to give the highest priority to mobilising its defence industry, but it is "still failing to meet war time demands". 
Two killed in overnight missile strike, Zelenskyy confirms
Overnight attacks on eastern Ukraine have killed two young men, Volodymyr Zelenskyy has announced.
In his nightly video address, the Ukrainian president said: "The terrorists' missiles took the lives of two people, very young men.
"Forty other people – women, children, men – were treated for wounds and injuries."
The attack on the city of Pavlohrad was part of the second wave of nationwide missile strikes in three days.
Mykola Lukashuk, head of the Dnipropetrovsk region council, said the attack had damaged 19 apartment blocks, 25 houses, three schools, three kindergartens and several shops.
The wounded included five children, the region's governor said.
Mr Zelenskyy also confirmed a 14-year-old boy was killed near his school when it was hit by a bomb in the Chernihiv region.  
US House Speaker urges Russia to pull out of Ukraine – after previously saying there would be 'no blank cheque' for Kyiv
House Speaker Kevin McCarthy has clarified his stance on providing support for Ukraine, telling a Russian reporter: "I vote for aid for Ukraine. I support aid for Ukraine."
The comments, which came during a trip to Israel, distanced Mr McCarthy from some in his Republican party who oppose additional major US aid to Ukraine.
Responding to the Russian reporter, the House Speaker said: "I do not support what your country has done to Ukraine, I do not support your killing of the children either.
"You should pull out."
Earlier on as party leader, Mr McCarthy had said there would be "no blank cheque" for Ukraine – but he has since insisted he will back the US effort against Russia.
Still, he has made clear he wants to ensure oversight of American taxpayer money abroad.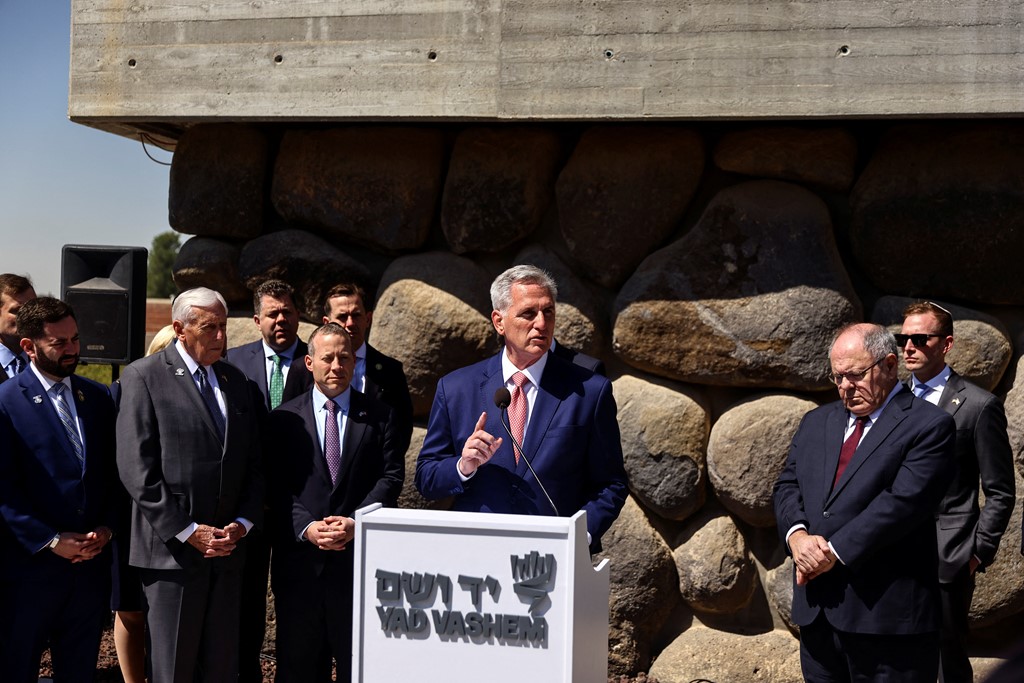 Kevin McCarthy in Jerusalem
What do we know about Russian casualties in Ukraine?
As we mentioned in our previous post, the US has offered a latest estimate of Russian troops killed in Ukraine.
The new intelligence suggests around 20,000 Russian soldiers have been killed in the Bakhmut area since December – with a further 80,000 injured.
Although these figures cannot be independently verified, if true they would point to a dramatic acceleration of Russian losses in recent months.
General Mark Milley, the chairman of the Joint Chiefs of Staff, said in November that Russia had suffered well over 100,000 killed or wounded in the first eight months of the war.
Phillips P OBrien, a professor of strategic studies at the University of St Andrews, said the Russian fight for Bakhmut alone is "probably equal to US casualties in the whole Korean War".
Professor Michael McFaul, a former US ambassador to Russia, also acknowledged the latest estimates were "very big numbers".
What has been said about Russian casualties previously?
Leaked US intelligence documents, which appeared to provide detailed assessments on the war in Ukraine, suggested Russia has suffered between 189,500 and 223,000 casualties in total.
This includes between 35,500 and 43,000 soldiers killed in action.
It's not clear when these estimates are up until, but many of the leaked documents appear to be from late February and early March.
Meanwhile, the UK's defence ministry said in February that between 40,000 and 60,000 Russian-linked forces had likely been killed.
In the same month, the Center for Strategic & International Studies gave an estimate of between 60,000 and 70,000 killed in action.
100,000 Russian casualties in Bakhmut since December, US estimates
The White House has estimated Russia has suffered 100,000 casualties in the last five months of fighting in the area of Bakhmut alone.
Detailing the latest estimates, National Security Council spokesperson John Kirby said the US believes around 20,000 Russian troops have been killed since December.
Half of those are from the Wagner private military group, Mr Kirby said.
The estimate is based on newly declassified American intelligence, he said.
The Russian offensive on Bakhmut, in Ukraine's eastern Donbas region, has "stalled" and "failed", Mr Kirby added.
Moscow has focused its invasion on the Donbas region in recent months, particularly the Donetsk town of Bakhmut.
However, it is thought Bakhmut has not been completely captured by Russian forces – and Ukrainian soldiers have begun counteroffensives in the area.