Rishi Sunak accused of rehashing old ideas ahead of launching drive to 'stamp out' anti-social behaviour
"We've heard it all before from this government," says a sceptical Labour of the Conservatives' plans to tackle anti-social behaviour, which include more community policing and bigger fines.
Rishi Sunak has been accused of rehashing old ideas as he prepares to launch a fresh crackdown on anti-social behaviour.
The prime minister has vowed the government's measures, which include a ban on nitrous oxide and a plan to make offenders repair damage they cause, will "restore people's confidence" and "stamp out these crimes once and for all".
But Labour said government cuts had contributed to the problems Mr Sunak is aiming to fix.
Under plans first detailed on Saturday, 16 areas in England and Wales will get funding to trial ideas like "hotspot" enforcement patrols and an "immediate justice" scheme to speed up punishments.
The former will see more police officers and wardens cover areas like parks, high streets and public transport.
Those found to be committing anti-social behaviour will be made to repair any damage, ideally within 48 hours, while working under supervision and wearing high-vis vests.
If successful, the hotspot and justice plans will be rolled out across England and Wales from 2024.
And a new digital reporting tool will be developed over the next 12 months, which will let people report anti-social behaviour incidents and get updates on what action local councils or the police are taking.
Victims will also get a say in how offenders are punished, such as by picking up litter or washing police cars, but the government has not said how this would work.javascript:"<html><head><script src='https://securepubads.g.doubleclick.net/tag/js/gpt.js' async></script></head><body><div id='proper-ad-skynews_signal_300x250_1′></div></body></html>"Advertisement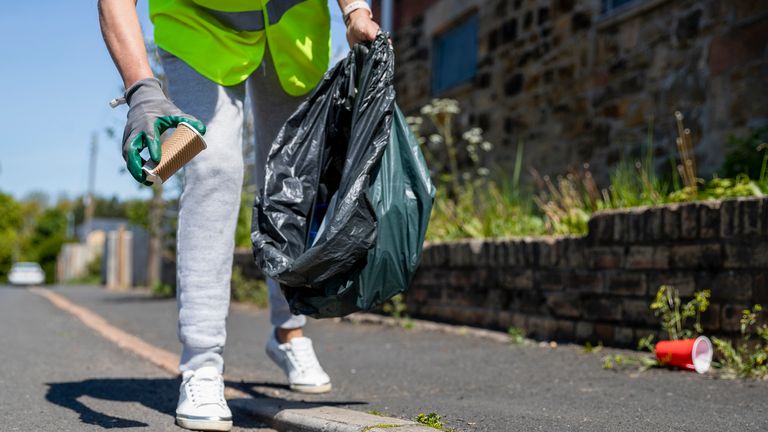 'We've heard it all before'
Labour said tackling anti-social behaviour was a priority but said the government was rehashing old ideas.
Shadow culture secretary Lucy Powell told Sky's Sophie Ridge on Sunday programme: "We've heard it all before from this government, and I think we have to judge them by their record.
"Community sentencing over the last 13 years is down not just by a third, but by two thirds."
Former victims' commissioner Baroness Helen Newlove, a Tory peer, also said "there is nothing new" in the government's crackdown plans.
"It doesn't really rock my boat, and there is nothing new there that jumps out to actually be effective… to help communities feel safe where they live," she told BBC Radio 4's The World this Weekend programme.