Politics latest: Downing Street defends 'fair' and 'reasonable' pay offer as nurses walk out; senior Tory MP says asylum system needs 'fixing'
The Royal College of Nursing says its pay demands are "not excessive" and nurses are "not being greedy"; veteran Tory MP David Davis criticises the way the government handles asylum applications
Recap: PM promises new laws to stop illegal migration and 'spurious' appeals
Rishi Sunak has promised to bring in new laws to tackle illegal immigration, saying anyone who comes to the UK illegally will not be allowed to stay.
Making a raft of announcements in the Commons, the prime minister said the legislation would be introduced early next year and mean people who do not come to the country through legal and safe routes "will be detained and swiftly returned either to [their] home country or a safe country where [their] asylum claim will be considered".
He said those coming illegally would "no longer be able to frustrate removal attempts with late or spurious claims or appeals" and, once removed from the UK, "should have no right to re-entry settlement or citizenship".
The PM also announced the government would be restarting its controversial flights to Rwanda, and had agreed a deal with Albania to return all its citizens who come to the UK across the Channel in small boats.
And he said MPs would soon be able to set an annual quota "to determine our capacity" to offer refuge to asylum seekers.
"The solution shouldn't just be what works, but what is right," said Mr Sunak. "It is unfair people come here illegally."
He added: "Enough is enough."
Key points
Downing Street defends 'far and reasonable' pay offer to nurses as they stage first mass walkout for a century  
Pay demand of 19% 'not excessive' says union leader  
'Inevitable' patients will suffer as a result of strike – health minister  
How will the NHS be impacted and which hospitals are affected?  
Royal College of Nursing head warns industrial action could continue into the new year  
Who is striking today?   | Which sectors are taking action this winter and why?
'Vital we stick to our plan' on inflation following interest rate rise, chancellor says  
Ed Conway: Glimmers of hope hidden away in latest interest rate decision  
Live updates by Tim Baker
Health secretary again hints no change on pay offer for nurses
Health Secretary Steve Barclay has again hinted he will not vary from the recommendation of the independent pay review board when negotiating pay with nurses.
The Royal College of Nursing union wants a pay offer of 19% – equivalent to RPI inflation plus 5%.
The government has offered an average hike of 4.5% – but with a cash component it rises to 9% for those at the lower end of the pay scales.
Speaking today, Mr Barclay said: "We've been clear that we have an independent process and that is the process we followed.
"If we were not meeting the recommendations in full, I'm sure I'd be asked as to why when there is an independent process, why we haven't followed that…
"There is room to discuss, as I say, a wide range of issues."
There have been disputes from unions over whether the pay bodies are independent, as they have their mandates and composition set by government.
Mr Barclay added: "When I speak to nurses, which I am doing again today on my visit here at Chelsea and Westminster, I hear that there's a number of issues that are of concern.
"Of course, pay is important and that's why we recognise that with the pay review body, but so is the new hospitals building programme, so is investing in technology.
"One of the bugbears nurses often tell me is when the technology doesn't work as they need it to do.
"Safety is also important. For example, at A&E, their staffing levels, that have been discussed with me."
He said he thought "it's important that we have a constructive engagement, but it's got to be reasonable, and I think asking for 19% at a time when many viewers face significant cost-of-living pressures is not affordable given the situation the economy faces."
Interest rate rise of 0.5% might not be full-blown Christmas cheer, but there are glimmers of hope
Whisper it quietly, but there were a few glimmers of hope hidden away in the Bank of England's latest interest rate decision.
Don't get me wrong: there was plenty in there which will continue to concern households – especially those with mortgages.
The Bank's Monetary Policy Committee voted to increase its official interest rate by another half a percentage point, bringing it up to 3.5%.
That's the ninth consecutive increase – one every meeting since this time last year – and it won't be the last.
The Committee said that "should the economy evolve broadly in line with the November Monetary Policy Report projections, further increases in Bank Rate might be required for a sustainable return of inflation to target."
Moreover, while there were two members of the nine-person committee who voted for no increase, another member, Catherine Mann, voted for an even bigger increase, up by 0.75 percentage points.
It's worth taking a step back to ponder just how big a sea change this has been for monetary policy.
Yes, interest rates have been higher than this – as recently as 2008.
But not since 1989 have interest rates increased this much in a single year.
And given those households with mortgages today are considerably more indebted than back then, the net effect of these changes could be even tougher.
That being said, as the Bank's own analysis showed earlier this week, there are fewer and fewer households with those mortgages.
This will be very tough for some, but not for everyone.
And the coming year is clouded in uncertainty.
Given the main thing pushing up inflation has been energy prices and given no-one knows what Vladimir Putin will do next, trying to predict the future remains especially difficult.
But here's where the glimmer – or rather glimmers – of hope come in.
The first is that inflation seems to have peaked (bearing in mind those provisos).
The Bank of England isn't the only central bank slowing down its pace of rate increases; the Federal Reserve did precisely the same thing yesterday, raising US rates by half a percentage point.
Second, the Bank reckons that the extension to the Energy Price Guarantee should help bear down on inflation next year, meaning it may not need to raise interest rates quite as much as it might have.
Third, the economy is actually doing a little better (or rather, less badly) than it had previously expected.
Yes, we are still probably in recession.
But in the third quarter, gross domestic product shrank by 0.2% (the Bank had expected -0.5%).
In the fourth quarter it previously expected a fall of 0.3%, but now it thinks -0.1% looks more likely.
It's hard to cast this as good news, but perhaps altogether they may constitute a glimmer somewhere off at the end of the tunnel.
Inflation peaking… growth surprising on the upside… They may not add up to full-blown Christmas cheer, but after the year we've just had, it's better than nothing.
Downing Street: 4.5% pay rise for nurses 'fair and reasonable'
The 4.5% pay rise offered to nurses is "fair and reasonable", according to the prime minister's spokesman.
Nurses from the Royal College of Nursing are today taking part in nationwide strikes.
The union wants a pay offer of 19% – equivalent to RPI inflation plus 5%.
The government has offered an average hike of 4.5% – but with a cash component it rises to 9% for those at the lower end of the pay scales.
Speaking to journalists at a briefing today, the spokesman said: "It is disappointing that the RCN have chosen to go through with strike action in a minority of areas across the country.
"Patients and the public should be reassured the NHS remains available to them if they need it. We've done everything to minimise disruption.
"We've taken a fair and reasonable approach in providing a 4.5% uplift for all nurses, on top of the 3% we provided last year."
Interest rate hike 'further evidence government has lost control of economy' – Labour
The latest hike in interest rates is "further evidence that the government have lost control of the economy", according to Labour's shadow chancellor Rachel Reeves.
She said: "Today's rate hike is further evidence that the government have lost control of the economy, harming growth, and leaving millions of working people paying a Tory mortgage penalty for years to come.
"After 12 years of Tory failure and wasted opportunities, only Labour offers the leadership and plans to stabilise our economy and to get it growing, so we aren't just surviving, but thriving again.
"Labour's green prosperity plan, our modern industrial strategy and our active partnership with business will get our economy firing on all cylinders." 
Chancellor: 'Vital we stick to our plan' on inflation following interest rate rise
Chancellor Jeremy Hunt has said it is vital the government sticks to its plan on inflation.
It comes following the announcement that the Bank of England has hiked interest rates to 3.5%.
Mr Hunt said: "High inflation, exacerbated by Putin's war in Ukraine, continues to plague countries across the world, eating into people's pay cheques and driving up food and energy prices.
"I know this is tough for people right now, but it is vital that we stick to our plan, working in lockstep with the Bank of England as they take action to return inflation to target.
"The sooner we grip inflation the better. Any action which risks permanently embedding high prices into our economy will only prolong the pain for everyone, stunting any prospect of economic recovery."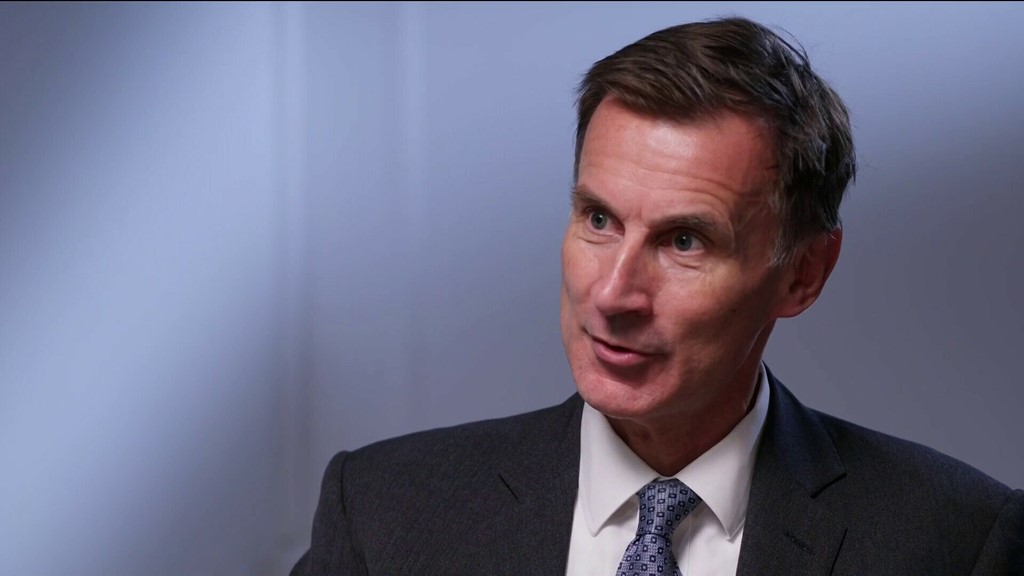 Three arrests after protesters climb DEFRA building
Three people have been arrested following a protest at the Department for the Environment, Food and Rural Affairs building in London.
A group climbed the side of the structure, hanging a banner warning about bird flu and calling for the end of "animal agriculture".
They could be seen wearing harnesses, helmets, and other safety equipment.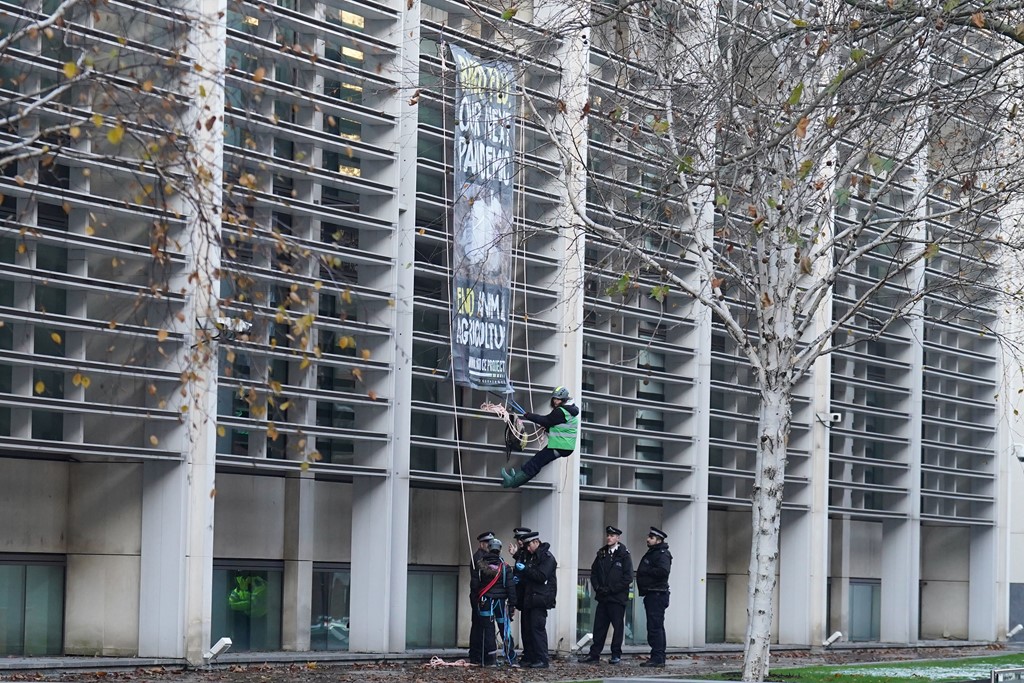 The Metropolitan Police said two women and a man have been held on suspicion of criminal damage and causing a public nuisance.
Marsham Street in Westminster – also home to the Home Office and Levelling Up buildings – was temporarily shut this morning.
The Animal Justice Project said that its members carried out the demonstration to highlight the "catastrophic" impact of bird flu being spread through chicken sheds
Government refuses to make Chinese diplomatic staff involved in Manchester assault personae non gratae
The UK government has refused to designate the six people involved in an assault on a Hong Kong protester in Manchester as personae non gratae.
Multiple MPs, including those on the Conservative benches, called on the government to take the step after the Chinese government withdrew the people involved.
It relates to an incident earlier this year, where Hong Konger Bob Chan was pulled by his hair and had bad bruising on his face and body after he was dragged into the grounds of the Chinese consulate in Manchester during a peaceful protest about Hong Kong.
Yesterday, Foreign Secretary James Cleverly announced that the people identified by Manchester Police as being involved were leaving the country.
Alicia Kearns, a Conservative MP and chair of the Foreign Affairs Select Committee, asked an urgent question in the Commons this morning on the matter.
Foreign Office minister Anne-Marie Trevelyan told MPs that the Chinese government had been given the option of making the diplomatic staff available for an interview with the police or withdrawing them from the country.
The Chinese Communist Party took the latter course.
Ms Kearns and her colleague on the Tory backbench Tim Loughton both asked Ms Trevelyan to declare the people personae non gratae, but she did not do so.
Labour also asked if the adjudication would be made.
Ms Trevelyan did share her disappointment that the group would not be interviewed.
She also revealed that the police were investigating the incident as a Section 39 common assault.
Our post from 10.18am has more details on the background to the story.
MPs hold minute's silence to mark anniversary of persecution of Jews during Second World War being declared
MPs held a minute's silence this morning to commemorate the 80th anniversary of the declaration of the persecution of Jews.
The Holocaust Memorial Day Trust said the declaration, which took place on 17 December 1942, was the first public announcement by the British government on Nazi Germany's attempt to murder Europe's Jewish population.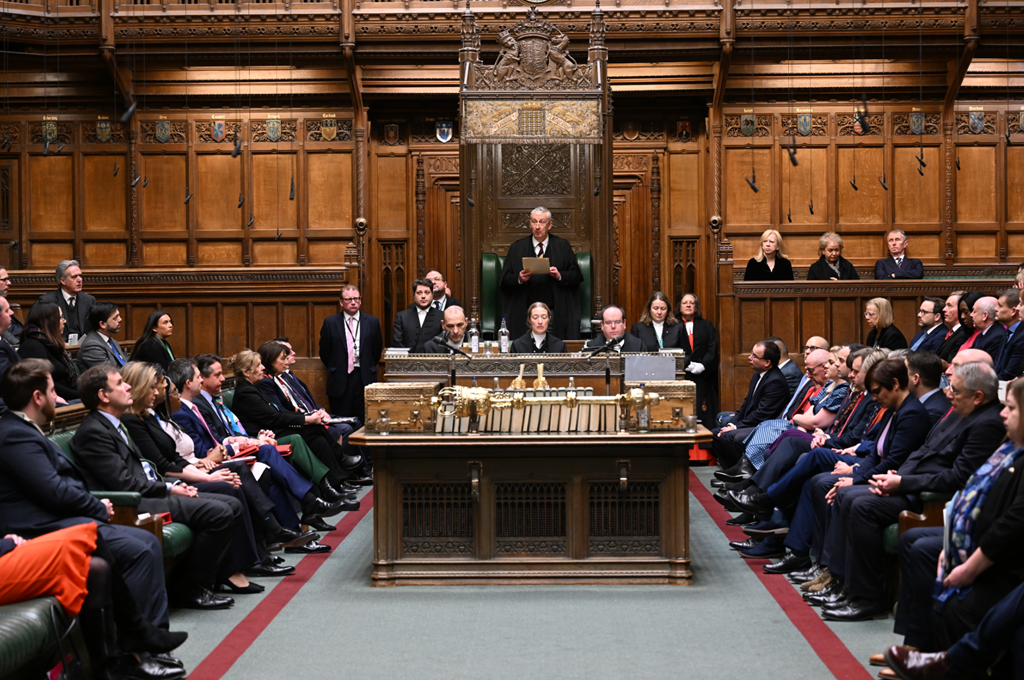 UK Parliament/Jessica Taylor
Contemporary reports say MPs stood spontaneously in silence afterwards.
The anniversary was marked in the House of Commons chamber by Prime Minister Rishi Sunak, as well as Labour leader Sir Keir Starmer.
Speaker Sir Lindsay Hoyle said that seven survivors of the Holocaust were present in the gallery to view proceedings, as well as representatives of Britain's Jewish community and the Holocaust Memorial Day Trust.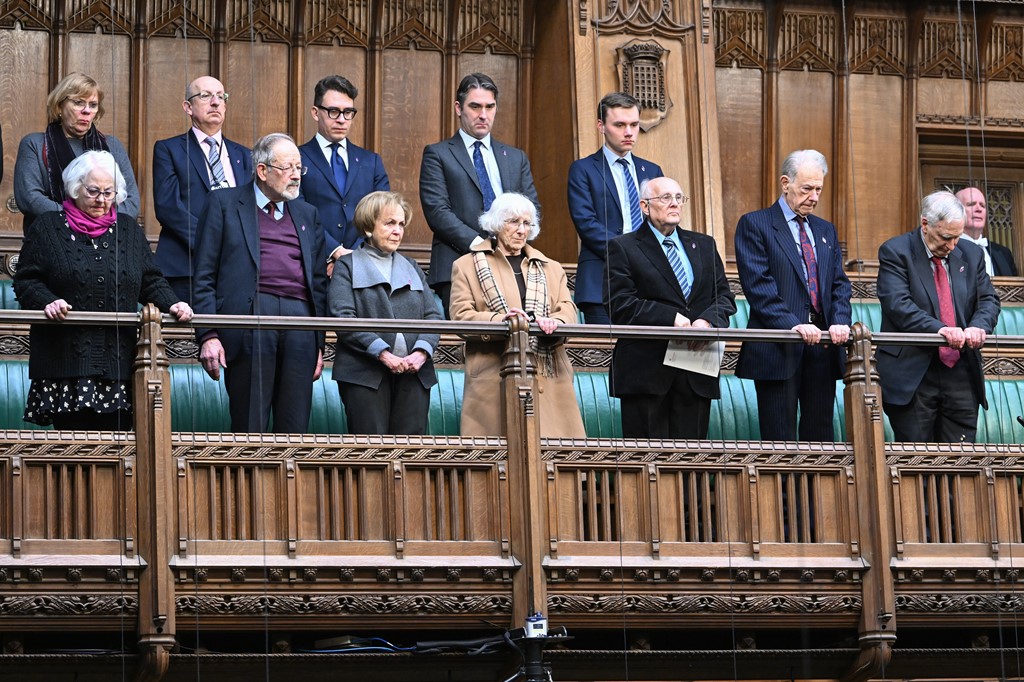 UK Parliament/Jessica Taylor
He said: "Before we start our business, I wish to invite the House to commemorate a tragic and sombre event.
"On December 17, 1942, 80 years ago on Saturday, the then foreign secretary, Anthony Eden, read to the House a declaration issued by the wartime allies, condemning the treatment of Jewish people by the Nazis in occupied Europe.
"The declaration followed a diplomatic note sent to the allied powers a week earlier by the Polish foreign minister in exile, the first official report that the Holocaust was under way.
"The evil acts described in the declaration were and remain difficult to comprehend."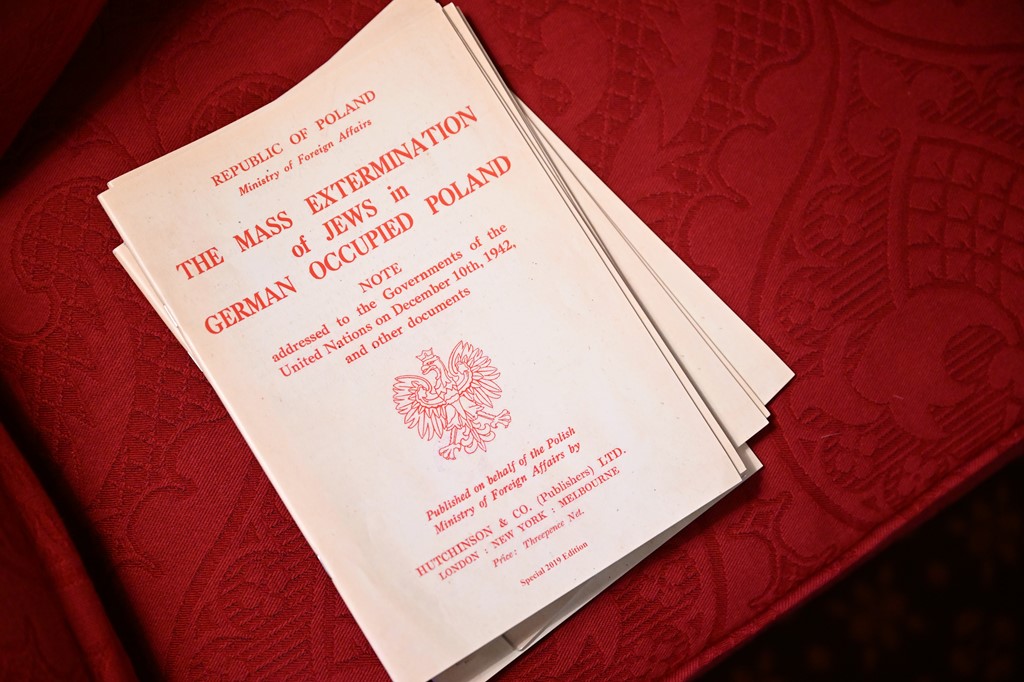 UK Parliament/Jessica Taylor
Urgent question granted about investigation into attack on protester inside China's consulate in Manchester
The Speaker has granted Alicia Kearns, the chair of the Foreign Affairs Select Committee, an urgent question about "on the investigation into the Chinese Consul General attack on protestors in Manchester".
Yesterday it was revealed that the Chinese government had "removed" a consul general and five of its officials involved in beating up a Hong Kong protester inside its Manchester consulate.
The question will likely be taking place in the next hour.
Foreign Secretary James Cleverly said his department had a week ago given a deadline of 14 December to the Chinese government for six of its officials to have their diplomatic immunity waived so they could be questioned by British police.
He said: "In response to our request, the Chinese government have now removed from the UK those officials, including the consul general himself.
"This demonstrates that our adherence to the rule of law, the seriousness with which we take these incidents, has had an effect, and we will continue on the world stage and domestically to abide by the rule of law, and we expect others to do likewise."