COP27 latest: Pakistan makes emotional plea; 'deep fault line' emerges at summit; UK 'close to energy deal with US'
Coverage of the second day of COP27 in Sharm el-Sheikh, Egypt.
Key points
US and China should 'pay their climate fair share' – Macron  
Warning of a billion climate refugees if talks fail in Egypt  
Plans for natural gas deal with US – report  
UK donates £200m to help Africa adapt to climate change
Pakistan makes emotional plea after floods  
Hannah Thomas-Peter: There is a deep fault line at COP27 – and wealthy counties are reluctant to engage 
Thomas Moore: The planet is facing a lot of tipping points – that is why Egypt is so vital 
What is happening on day two of COP27?  
Updates from climate change correspondent Hannah Thomas-Peter, climate change reporter Victoria Seabrook and science correspondent Thomas Moore. Live reporting by Faith Ridler
In pictures: World leaders on day two of COP27 summit
World leaders and climate envoys have been arriving for the second day of the COP27 conference in Sharm el-Sheikh, Egypt.
The US climate envoy John Kerry has already addressed crowds at the America Pavilion, while Germany's Olaf Scholz and UN Secretary-General Antonio Guterres participated in a panel on adaptation in Africa.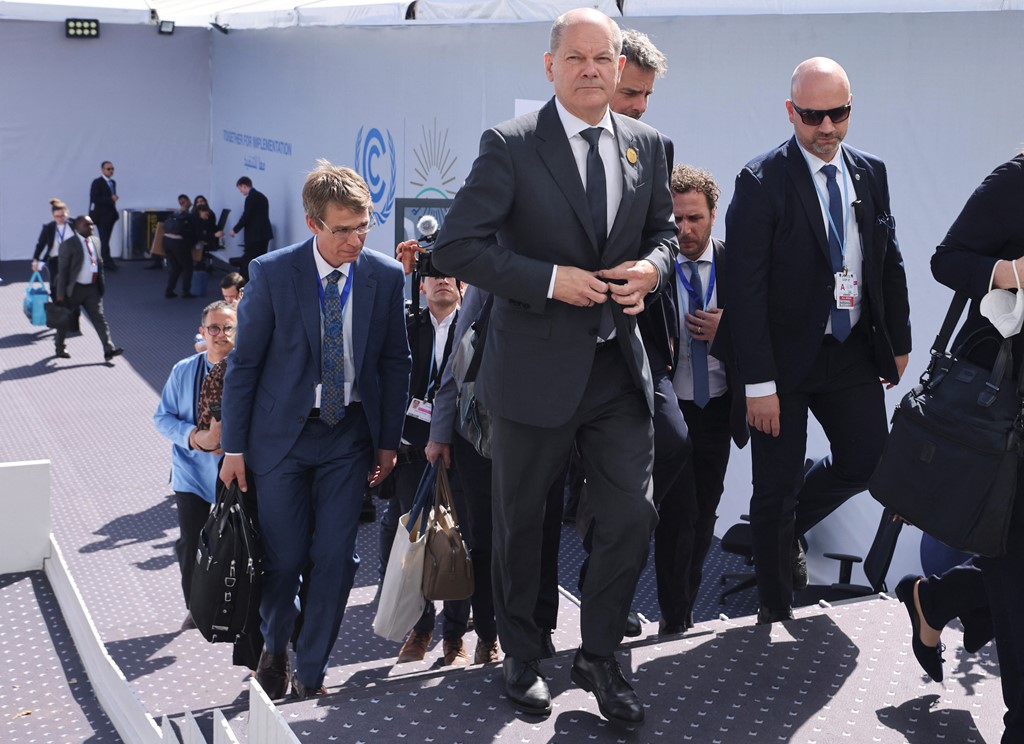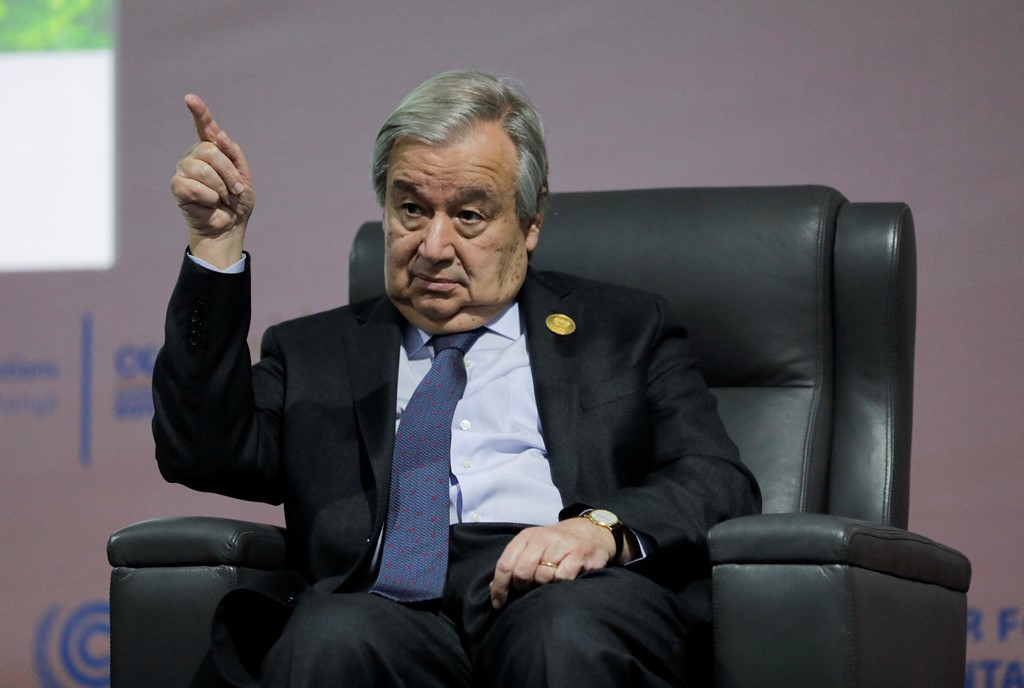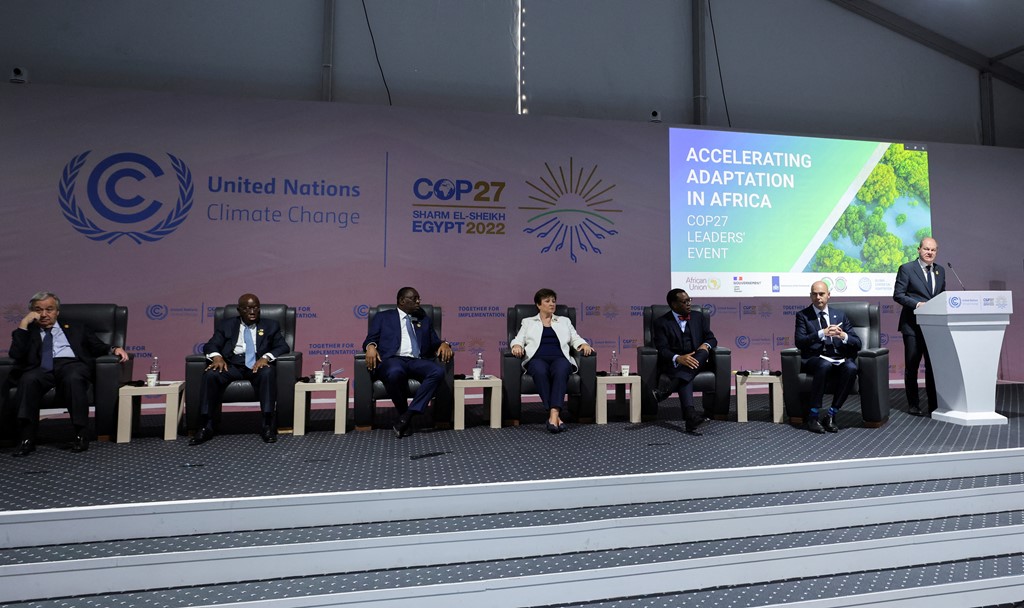 China 'committed' to reaching carbon neutrality
Xie Zhenhua, China's special climate envoy, was addressing delegates at the COP27 conference in Sharm el-Sheikh, Egypt, this afternoon.
He said the country – one of the world's largest emitters – is "determined" to reach "carbon neutrality".
"No matter how much the external environment changes, and no matter how many challenges we face, China has firm determination to achieve this vision of carbon neutrality."
A year of climate devastation since COP 26
In the year since COP26 in Glasgow, climate change has fuelled escalating losses around the world.
From fish deaths and crops failures amid drought in Europe, to the loss of hundreds of lives, homes, and livelihoods during violent flooding in Pakistan.
Tina Stege, climate envoy for the Marshall Islands, which are being eaten away by rising sea levels, told Sophy Ridge on Sunday they were already "having discussions about where and when people need to move, to other islands, to higher ground – which, by the way, we don't have".
So, the question is: has the last year been good or bad for progress towards preventing climate catastrophe? Climate reporter Victoria Seabrook has taken a look.What a difference a year makes: How the world has changed since COP26, as COP27 approaches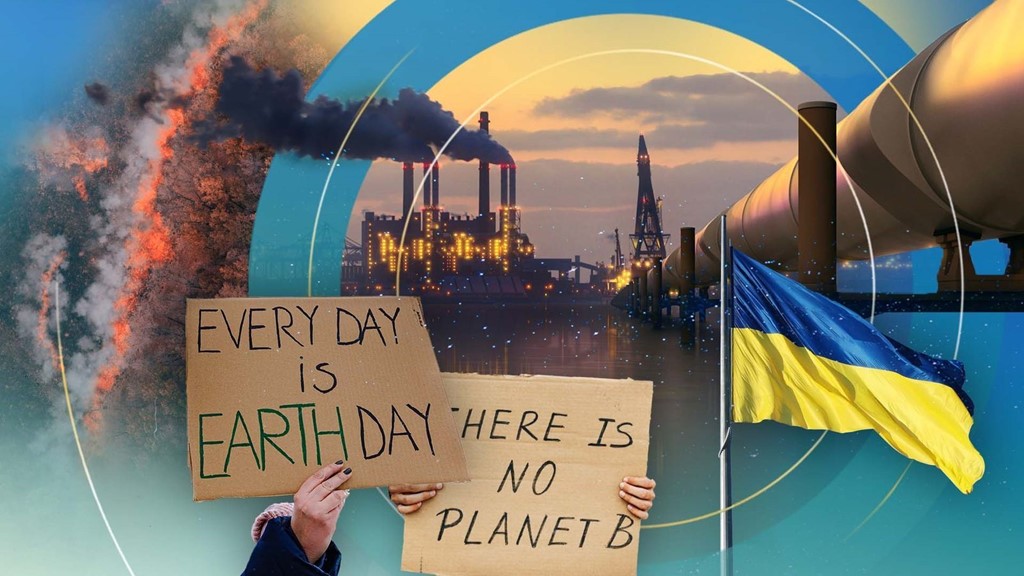 'The world is on the brink': Zelenskyy warns COP27 delegates of 'devastating changes'
Ukrainian President Volodymyr Zelenskyy is now addressing delegates at the COP27 climate conference in Egypt.
In a recorded video message, he says "the world is on the brink" – and "beyond this limit" are "devastating changes".
Mr Zelenskyy adds: "The world is on the brink, and beyond this limit, devastating changes that will forever change the usual life on all continents.
"Colleagues have described what this means, no one can stay aside. The poorer the person, the poorer the family, the poorer the country – the more painful the effects of climate change will be for them," he says.
"This also applies to all rich nations. It is impossible to buy off the destruction of the climate – but why do we keep talking about it every year? Why, instead of report on what has been done, the same forecast and appeals are made every year?
"I will be honest, there are still many who do not take the climate agenda seriously.
"There are still many for whom climate change is just rhetoric… but not real action. They are the ones who hamper real climate goals."
Mr Zelenskyy then turns to the war in Russia, which he says has brought about an "energy crisis" that has forced nations to "resume coal-fired power generation in order to lower energy prices".
He adds that the Russian war has destroyed five million acres of woodland in Ukraine.
"There can be no effective climate policy without peace."
Unless something radical shifts, it isn't likely a loss and damage fund will become a reality at COP27
Hannah Thomas-Peter, Sky News' climate change correspondent, has said that "unless something radical shifts" it seems unlikely developing nations will secure climate compensation.
Speaking from Egypt, Thomas-Peter said the prime minister of Barbados compared the need for this fund "to the suffragette's movement".
She said what is proposed is a "vulnerable nations index, to help established who is owed the money".
This was asked for by the prime minister of Pakistan, who made an emotional plea for help at the COP27 summit earlier this afternoon.
She said: "There are lots of ideas about how this loss and damage funding might work – the prime minister of Barbados calling as well for a global tax on fossil fuel companies.
"I just spoke to her actually, she told me in not too uncertain terms that it doesn't really matter what developed rich nations think, this is an idea whose time has come.
"She compared it to the suffragette's movement."
Thomas-Peter added that there is a "certain reality to all of this, and that is that the US in particular – and other rich nations – are reluctant to do any more than just talk about loss and damage".
She said: "There is certainly a real reluctance to go any further in terms of creating a new funding facility – that is not on the table at all. Rich countries much prefer to divert funds to those in need by exiting infrastructure.
"Therefore, at the moment, unless something radical shifts, there's only a handful of countries – rich ones, anyway – who have even considered putting money into a separate pot for developing nations to fight climate change."
The world warming – in real time
It is feared the world is currently heading for 2.4-2.6C of warming – despite the agreed target, set in Paris in 2015, to cap global warming at 1.5C.
This real-time counter offers an insight into the slow but constant warming of the planet…
Can the global tipping points be stopped?
By Thomas Moore, science correspondent
Thawing permafrost, deforestation in the Amazon and melting ice – over the last few days we have discussed the tipping points that have the world on the brink of climate catastrophe – but can they be stopped?
The further global temperatures rise beyond 1.5C the greater the risk of other tipping points – such as the loss of mountain glaciers and Arctic sea ice, waning ocean currents and a shift in the West African monsoon rains.
Scientists say a point of no return is far from inevitable. The faster cuts are made to greenhouse gases the better the chance they can be avoided.
At the University of Exeter, scientists are studying positive tipping points that might turbo-charge climate action.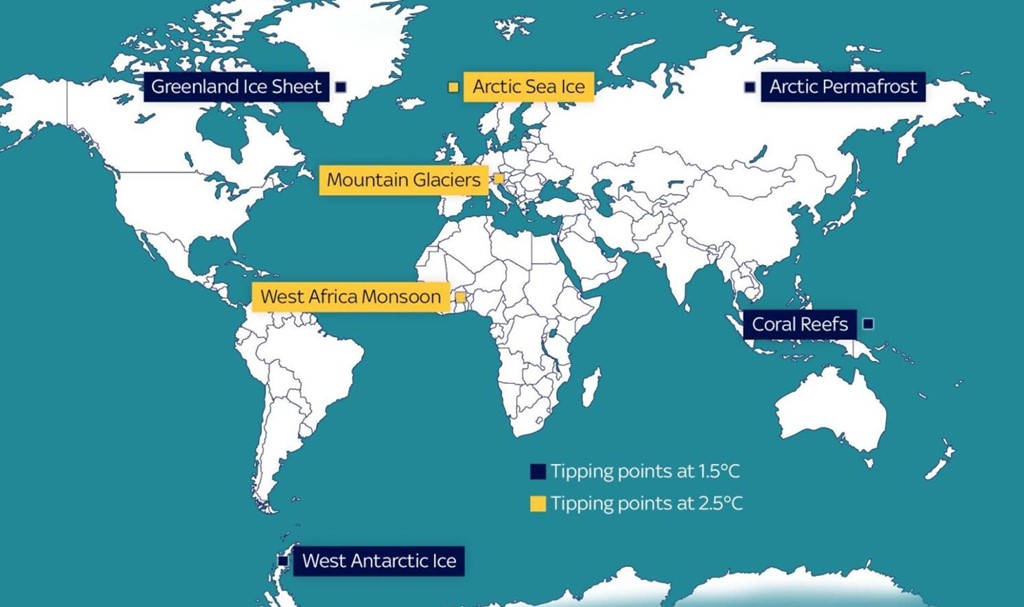 The plunging cost of green tech – from wind turbines to LED lightbulbs – is one of them. Switching to low carbon devices now often makes financial sense.
There are social tipping points, too. There's good evidence that the more solar panels people see on their neighbours' houses the more likely they are to have them installed themselves.
But there are other tipping points for change that are still a long way off. To pick just three: the upfront cost of electric cars is still far too high, the construction industry needs to switch away from high-carbon concrete and steel to building with timber, and high meat consumption is unsustainable.
A lot of it is down to the government – but it has cut subsidies on electric cars and shied away from encouraging potentially unpopular behaviour change.
World leaders need a plan if we're going to dodge the tipping points. And with all the stalling at the climate talks it's hard to see how that's going to come soon enough.
UN chief hits out at 'rank deception' of fossil fuel companies
Antonio Guterres has hit out at the "rank deception" of fossil fuel companies with net zero pledges who are still expanding their operations.
The UN secretary-general was speaking at the launch of a report by an expert group he established last year to tackle greenwashing and gaps in net zero commitments by companies, banks, cities and regions.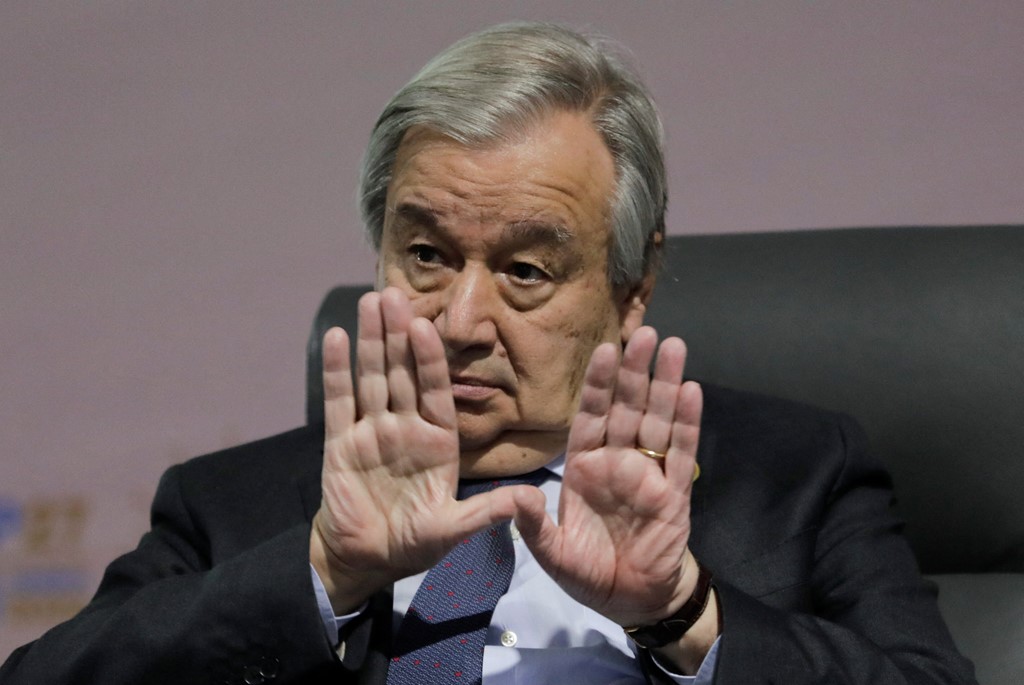 The report, which has been launched at the COP27 climate talks in Sharm el-Sheikh, Egypt, sets out red lines on greenwashing, and standards and criteria for net zero commitments, to ensure they help cut emissions to curb dangerous warming.
UN scientists warn that globally, pollution needs to fall to zero overall – known as net zero – by around mid-century to prevent warming of more than 1.5C, beyond which the worst impacts of climate change will be felt.
Mr Guterres said: "A growing number of governments and non-state actors are pledging to be carbon-free – and that's good news.
"The problem is that the criteria and benchmarks for these net zero commitments have varying levels of rigour and loopholes wide enough to drive a diesel truck through.
"We must have zero tolerance for net zero greenwashing."
He then issued a warning to fossil fuel companies, many of which have net zero targets but are still investing in new exploration or continued production.
"Using bogus 'net-zero' pledges to cover up massive fossil fuel expansion is reprehensible. It is rank deception," he said.
"This toxic cover-up could push our world over the climate cliff. The sham must end."
UK climate tech startups in the spotlight
By Tom Acres, technology reporter
Earlier, we brought you news of growing investment in UK climate tech startups over the past year.
The figures came from Tech Nation's 2022 Climate Tech Report, which has also highlighted some of of the country's most promising upcoming players in this space.
Here are some of the firms they picked out:
Phycobloom – this London-based firm is trying to engineer algae for use as sustainable biofuels, with the aim of making it more powerful than solar and wind – and even capable of flying a plane.
Equiwatt – this initiative aims to help households save money on energy during peak times, offering a free app to download and inviting users to turn devices off when prompted, then providing rewards as an incentive.
Kelpi – based in Shrewsbury, this company is awaiting a patent for its unique biopolymers it says could replace plastics with a biomaterial made from seaweed.
Small Robot Company – the team here in Salisbury have created a so-called Tom robot, which – through the power of AI – can plant, monitor and treat crops autonomously.
Electric Miles – workers at this company in Bushey provide "smart" electric vehicle charging software which aims to make charging much more efficient, making it cheaper for drivers and better for the environment.
Norway pledges to increase carbon tax
One of the richest countries in the world has pledged to do more on climate change, committing to doubling climate finance within the next four years.
Speaking at the COP27 conference, Prime Minister Jonas Gahr Støre said he will also increase carbon tax to €200 per tonne by 2030.
He also committed to an annual climate action plan as part of the country's budget.
"We must ensure no one is left behind," he said.
'We became a victim of something with which we had nothing to do': Pakistan PM gives emotive speech after devastating floods
Shehbaz Sharif, the prime minister of Pakistan, has given an emotive address to the COP27 summit this afternoon in the wake of devastating floods.
He said: "This COP rings an alarm bell for humanity, it is the only platform where the survival of the human race as a goal still holds promise.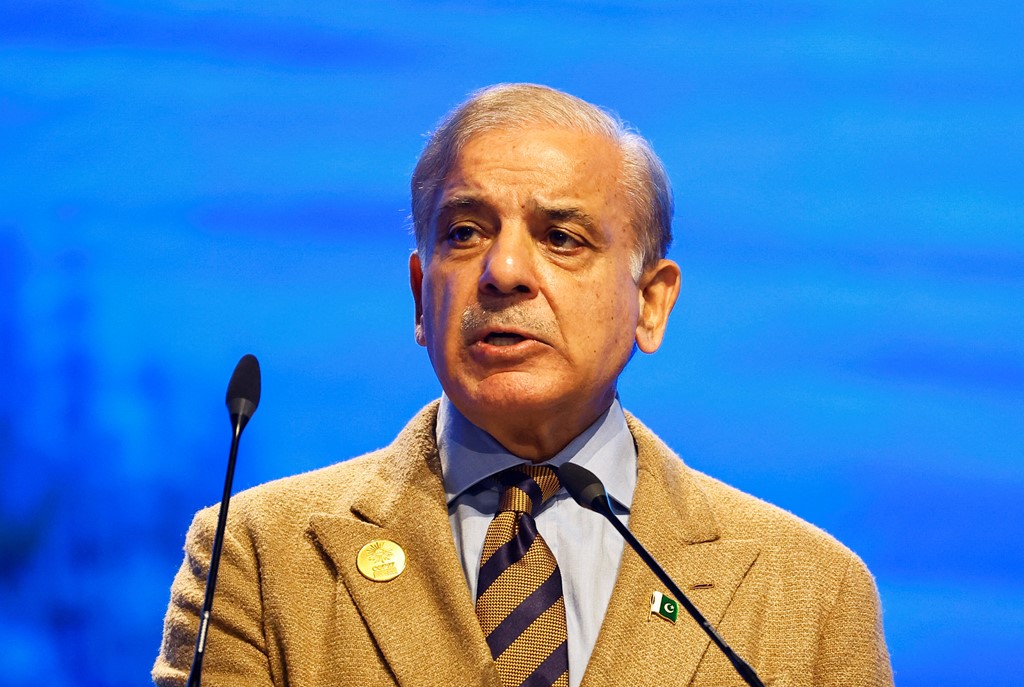 "It is also the forum where we as vulnerable countries take our case to the rich and the resourced to build… a road map to crucial policy resets needed in a world that is burning up faster than our capacity for recovery.
"I'm sure all of you must have heard about the catastrophic floods in Pakistan, which impacted 33 million people.
"The size of three European countries, more than half are women and children.
"We struggled on with raging torrents… ripped out more than 8,000km of metal roads, damaged more than 3,000km of railway track and washed away standing crops on four million acres.
"An estimate of damage and loss has exceeded $30bn and this all happened despite our few low carbon footprints and yet we became a victim of something with which we had nothing to do.
"Of course, it was a manmade disaster."
He warns that as winter approaches, his country will now need to provide shelter, homes, medical treatment and food packages to millions of people.
Pakistan is "spending billions of rupees from our own meagre resources," he says.
Mr Sharif calls for additional funding from other countries, saying Pakistan will be locked in a "debt trap" if it is forced to continue paying out for damages.
Investment in UK climate tech startups reaches new highs
By Tom Acres, technology reporter
A positive slice of news amid the warnings of global catastrophe at COP27 is that investment in UK climate tech startups has grown significantly over the past year.
Among the biggest commitments (£225m or more) were in Britishvolt, which produces low carbon lithium-ion batteries for the car industry, and Octopus Energy, which last month sealed a deal to buy rival Bulb and absorb its 1.5 million customers.
Elsewhere, Octopus itself has invested £110m in the electric vehicle charging firm Be.EV; Aviva has put the same amount into another charging company, Connected Kerb; and Microsoft partnered with Wayve on developing AI for autonomous, sustainable vehicles.
Across the board, investment is up 18% on 2021.
The figures are highlighted in Tech Nation's 2022 Climate Tech Report, which also shows 66% of all investment into UK climate tech companies went to those focused on reducing the climate impact associated with energy production and consumption.
Such firms could represent a potential reduction in carbon emissions of 70.9bn metric tonnes of CO2e per year, which is just less than double all emissions created globally in 2021.
"The UK needs a lease of new economic life, and the world needs a reduction in atmospheric carbon," says the report.
"Climate tech is the way we get there, carving out a place for ourselves as the leading climate tech nation in the next decade."
Plans to revive talks on 'global environmental trade deal' – WTO
The World Trade Organisation plans to revive talks on a global environmental trade deal, its chief said amid the COP27 climate summit in Egypt.
This would be part of efforts to give the trade watchdog a bigger role in tackling climate change.
Talks on scrapping trade barriers on goods such as solar panels and smart-heating controls are considered an important step towards cutting the cost of environmental protection.
But WTO discussions collapsed in 2016 after disagreements between China and Western countries about which products should be on the environmental list.
"We would like to see the revival of an environmental goods and services agreement," Ngozi Okonjo-Iweala said on the sidelines of the climate conference.
She added that talks should be expanded to include services, such as air pollution mitigation and wastewater treatment.
"You need to have a friendly trade regime for renewables and other environmentally-friendly products," she said.
Global treaty needed to stop spread of fossil fuel energy, says island leader
The world should adopt a treaty that stops the spread of fossil fuel energy, a small island leader proposed as vulnerable nations push for action at international climate talks.
Tuvalu PM Kausea Natano said that he would propose a non-proliferation treaty for coal, oil and natural gas later in a speech at the COP27 summit in Sharm el-Sheikh, Egypt.
A year ago at climate talks in Glasgow, a proposal to call for a "phase out" of coal – the dirtiest of the fossil fuels – was changed at the last minute to "phase down" after a demand from India.
Leaders of small island nations have now called for a global tax on the profits of fossil fuel corporations.
"While they are profiting the planet is burning," said Gaston Browne, prime minister of Antigua and Barbuda, speaking on behalf of his and other small island nations.
Zimbabwe President Emmerson Dambudzo Mnangagwa called on similar nations to form a "countermanding bloc of the victims of climate change".
In a departure from the criticism that rich countries have so far endured from many developing nations' leaders at this year's international climate meeting, the president of Malawi praised leaders present in Egypt for simply showing up.
"The temptation to abstain from COP this year was great," President Lazarus Chakwera said, "because of the great and unprecedented economic hardships your citizens are suffering in your own nation", he said. "But you resisted this temptation and chose the path of courage."
How will the UK be impacted by climate change?
The UK government's own independent advisers published a report last year accusing the climate response of being "severely lacking" and warning the threats the UK is facing have actually worsened in the last five years.
One of the most acute threats is overheating in homes.
More than 4,000 people have died from heat-related reasons in England alone between 2018 and 2021 – that's not including the deaths during this summer's extreme heatwave.
The report warned 7,000 could die every year by 2050.
In the last five years, more than half a million homes have been built without features to cope with higher temperatures, such as shutters or better ventilation.
Meanwhile, the UK's average land temperature has risen by around 1.2C from pre-industrial levels, sea levels have risen by 16cm since 1900 and episodes of extreme heat are becoming more frequent.
There are also warnings that changes in the growing season could affect the way we produce food.
What's all the fuss about adaptation?
By Victoria Seabrook, climate change reporter
A buzzword at today's talks is "adaptation" – but what does it mean?
The best way to stop climate change is cut emissions – that's known as mitigation.
But the rich world has dragged its heels for so long that now the world has to adapt. That could be growing different kinds of crops that are more resilient to drought or heat or salt water, for example, or building walls to protect against rising seas.
But rich countries have failed to deliver the cash for adaptation that they promised (delivering more for mitigation instead), meaning climate impacts are so fierce they are beyond the realms of adaptation.
That then tips into the realm of loss and damage, those irreversible and irreparable impacts like entire communities and coastlines sinking under water, or loss of lives amid deadly extreme weather.
Developing countries that have done the least to cause climate change are, cruelly, typically the worst impacted.
Loss and damage is also dominating the talks at this year's COP.
For years it's been a taboo issue, but the scale of impacts is now so great it's harder for polluting nations to ignore. 
World Bank 'to host new facility to help nations with heavy economic loss due to climate change'
The World Bank will host a new facility that will help countries with heavy economic loss due to climate change, its president David Malpass said on Tuesday.
Mr Malpass announced the new instrument, called the Global Shield Financing Facility, at a meeting with German Chancellor Olaf Scholz.
Mr Scholz has spearheaded the effort among G7 members to create a programme to give vulnerable countries access to disaster risk finance and insurance.
He announced at the UN Climate Change Conference in Egypt on Monday that it will offer €170m for the Global Shield programme. 
'Let us not take the highway to hell – let us earn the clean ticket to heaven' – EU chief at COP27
Ursula von der Leyen, the president of the European Commission, is addressing delegates at the COP27 climate conference in Sharm el-Sheikh, Egypt.
She begins by reiterating a "stark warning" given by the Intergovernmental Panel on Climate Change in the "same week that Russia invaded Ukraine".
Ms von der Leyen says: "Its message could not have been clearer: the climate is changing faster than our capacity to adapt. The world must deliver better and faster.
"The global fossil fuel crisis must be a gamechanger, and my friends, let us not take the highway to hell. Let us earn the clean ticket to heaven. That is our responsibility."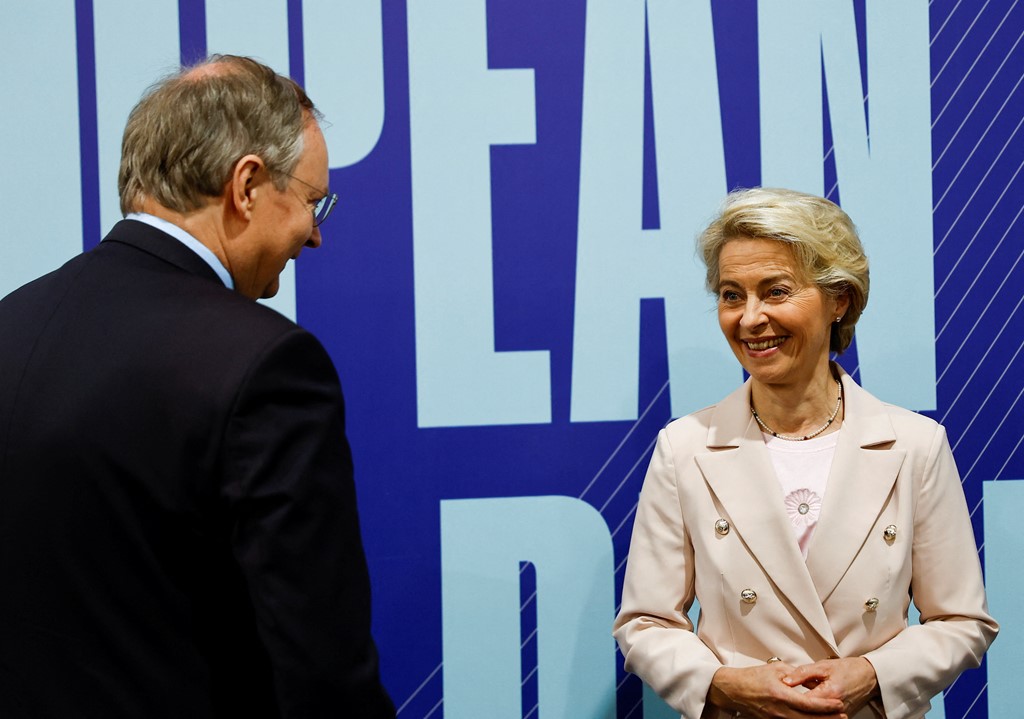 She adds that, in Europe, countries are cutting dependence on Russian gas, which is good – but not enough.
Europe is "massively accelerating" its roll-out of renewables, Ms von der Leyen says.
This will help the EU meet an "all time record" of 100 gigawatts of renewable capacity.
"We know that every kilowatt hour of energy that we generate from renewable sources is not only good for our climate, but for our independence," she says.
Ms von der Leyen goes on to hail new hydrogen "partnerships" with Egypt and Kazakhstan.
"We need to reach the Paris goals, and Europe is staying the course.
"We will reduce our greenhouse gas emissions by at least 55% by 2030, and that is cast in law."
She adds that an "ambitious legal framework" is being put in place, while calling on "major emitters" to do the same.
Ms von der Leyen says those in need should be supported, and COP27 "must make progress" on addressing damage from climate change.
"We urge our partners in the Global North" to up finance pledges to the Global South, she adds.
"Europe is staying the course, so lets do this journey together."