Chester by-election: Sunak fails first by-election test, says Rayner
Rishi Sunak has "failed" his first electoral test as Labour held Chester in a by-election with an increased vote share, Angela Rayner has said.
Labour's deputy leader said voters "have given a big message to the Conservatives that they want change".
Samantha Dixon was elected with a 10,974 majority, and a 61% vote share – Labour's best ever result in the seat.
Repeating the 13.6% swing from the Tories nationally would win Labour a majority, pollster John Curtice said.
Culture Secretary Michelle Donelan said that the result was "pretty much expected".
Ms Donelan argued the Conservative Party was "focused on delivering for the British public".
Lord Hayward, a Conservative peer and elections analyst, said: "Rishi has to convince the public at large that he can manage out of this crisis, whichever crisis one's looking at – and there's a lot of them."
Nine candidates run to replace code-breach MP
Labour MP quits over sexual misconduct
Chester by-election candidates' 'minute manifestos'
Ms Rayner said Chester voters had shown they "want a Labour government".
Labour Leader Keir Starmer, called the election "a very, very good result for the Labour Party".
Sir Keir said: The Labour Party has been putting forward a positive plan for the future, how we stabilise and grow our economy.
"The government is worn out, tired and crashed the economy and the verdict was very clearly given."
In her victory speech, Ms Dixon said voters had delivered a message to Mr Sunak that the Conservatives "no longer have a mandate to govern".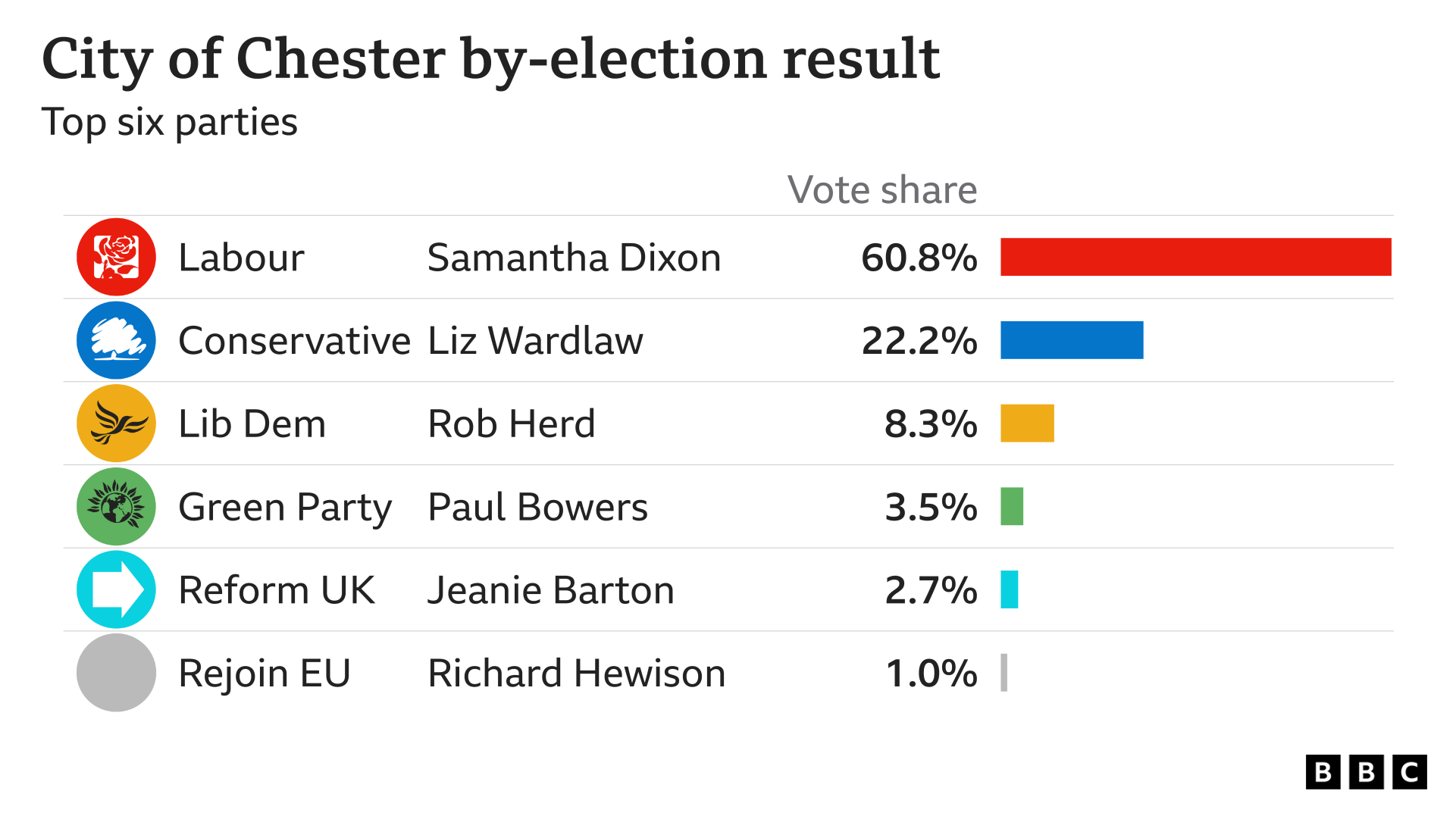 Labour had been expected to retain the seat, which it won in 2019 by a majority of 6,164.
In that election, the Conservatives came second, winning 38% of the vote. Labour and the Liberal Democrats secured 50% and 7% respectively.
This time around, Ms Dixon won with a 61% share, easily defeating Conservative Liz Wardlaw on a 41% turnout.

Bleak outlook for Tories

Very little about this result is surprising, but that doesn't mean it's not significant.
Labour held the seat and boosted their share of the vote, while support for the Conservatives dropped.
Sir Keir Starmer can point to this win as evidence that Labour's lead in the opinion polls is reflected in the real world.
Conservatives say they've been given a "bloody nose", as is often the case for governments mid-term, and a message from voters that they need to deliver.
Labour insiders are talking up the win as a "thumping result", with the party's biggest ever majority in the city of Chester.
But Tories in the region, braced for defeat, say with some relief that it could've been worse.
It's always risky projecting by-election results onto the national picture – but as a snapshot, this one tells us Labour has built on its support in a seat that's been Conservative in the past and for the Tories, the electoral outlook is bleak.

Sir John Curtice told BBC Radio 4's Today programme: "Labour are in a stronger position than they have been at any point in the last 12 years."
The 13.6% swing from Conservatives to Labour would be enough for Labour to form a new government, Sir John said, but "wouldn't produce an enormous majority" were it to be replicated in a general election.
The contest was triggered by the resignation of previous Labour MP Christian Matheson.
He stood down after Parliament's watchdog recommended his suspension for "serious sexual misconduct".
The Conservatives have performed badly in recent by-elections, losing Wakefield to Labour and the historically safe Tory seat of Tiverton and Honiton to the Liberal Democrats.
Those defeats increased political pressure on Boris Johnson, who later resigned as prime minister.
Thursday's by-election was the first to take place since Mr Johnson quit and his successor Liz Truss caused market turbulence with her mini-Budget.

Analysis
By Kaleigh Watterson, Cheshire political reporter
Even though it wasn't a completely unexpected result, people from the Labour Party here in Chester are very happy with a near 11,000 majority.
This has been a Labour seat since 2015 and, out speaking to people on the streets, there were more people saying they were going to vote for them.
The Labour campaign was a lot more active too. We saw a lot of shadow ministers coming to visit – big hitters like Shadow Chancellor Rachel Reeves and former leader Ed Miliband.
Sam Dixon – a former leader of Cheshire West and Chester Council – was keen to showcase her local links.
That localness has mattered – some of the candidates told me the first question asked of them was: "Are you from Chester?"
With a Conservative candidate living in a neighbouring council area and minimal ministerial visits, the question can be asked: Did the Conservatives really have their heart in this one?

Results in full:
Samantha Dixon (Labour) 17,309 (60.8%, +11.1%)
Liz Wardlaw (Conservative) 6,335 (22.20%, -16.1%)
Rob Herd (Liberal Democrat) 2,368 (8.37%, +1.53%)
Paul Bowers (Green) 987 (2.78%, +0.2%)
Jeanie Barton (Reform UK) 773 (2.73%, +0.2%)
Richard Hewison (Rejoin EU) 277 (0.98%)
Cain Griffiths (UK Independence Party) 179 (0.63%)
Howling Laud Hope (Official Monster Raving Loony Party) 156 (0.55%)
Chris Quartermaine (Freedom Alliance) 91 (0.32%)