Al Jazeera has filed a case of murder of journalist Shireen Abu Aqila in the International Court of Justice
 Al Jazeera network has filed a case against Israeli forces in the International Criminal Court for the murder of journalist Shireen Abu Aqla.
Palestinian-American journalist Shireen Abu Aqila was shot on May 11 on a street in the West Jordan city of Jenin, where there was an exchange of fire between the Israeli army and Palestinian militants.
The Israeli army said one of its soldiers might have fired at him, but his death was ruled unintentional.
Al Jazeera says this is completely baseless and the evidence shows it was a 'deliberate killing
Outgoing Israeli Prime Minister Yair Lepid said that 'no one will investigate IDF soldiers and no one can tell us about ethics in war, certainly not Al Jazeera.'
Israel does not recognize the ICC's authority and has refused to cooperate with an investigation by the Hague-based court's prosecutor into possible war crimes in the occupied territories.
Shireen Abu Aqila, 51, went to the Jenin refugee camp on May 11 to report for Al Jazeera's Arabic TV channel, where there was a shootout between Israeli soldiers and Palestinian militants.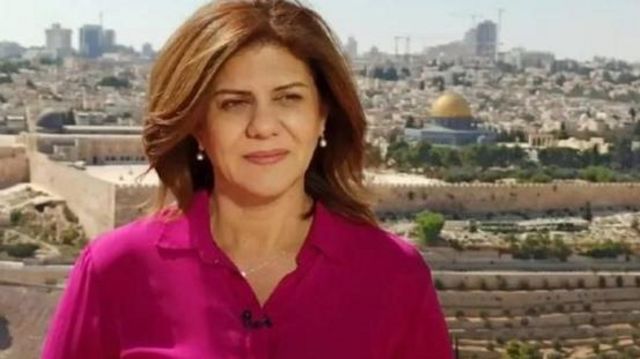 When she was killed, she was wearing a helmet and a blue bulletproof jacket with the word 'press' clearly written on it, and she was walking down the street with other journalists. Another journalist was also shot in this firing.
Journalists, eyewitnesses and Palestinian officials there say that the shot was fired by Israeli soldiers stationed about 200 meters away. These allegations were later confirmed in investigations by the United Nations and several media organizations.
The Israel Defense Forces initially said it was not possible to know who killed Abu Aqila. But in September a senior official told reporters that it was highly likely that he was 'shot by an Israeli soldier by mistake, and of course he did not identify him as a journalist.'
"Its legal team has carried out a detailed investigation into the killing and has uncovered new evidence, including eyewitness accounts and numerous videos," Duha-based network Al Jazeera said in a statement on Tuesday.
Al Jazeera, in presenting its case to the ICC prosecutor, highlighted that new witness evidence and video footage clearly show that Shireen and his associates were directly targeted by Israeli forces (IDF). There was direct firing. The Israeli authorities' claim that Shireen was accidentally killed in the firing is completely baseless.
"The evidence presented to the Office of the Prosecutor confirms beyond reasonable doubt that there was no firing in the area where the lionesses were, the IOF fired directly at them. When these journalists were walking slowly on the road wearing their special media jackets, and there were no other people on the road, the soldiers could clearly see them.'
"The evidence suggests that this deliberate killing was part of a wider campaign to target and silence Al Jazeera," the statement added.
Al Jazeera's lawyer, Rodney Dixon KC, said the alleged campaign included an Israeli airstrike in May 2021 that hit the Gaza City tower block of the Al Jazeera and Associated Press offices during fighting between Israel and Palestinian militants. was destroyed.
Abu Aqila's family, who submitted their complaint to the ICC in September, said they supported Al Jazeera's request.
"The evidence is overwhelming, we expect the ICC to take action," his niece Lina Abu Aqila told a news conference in The Hague.
There was no immediate comment from the ICC.